HRW Says Afghan Warlords Hold Government Jobs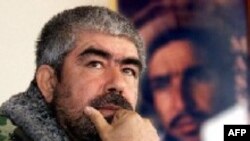 Abdul Rashid Dostum (file photo) (AFP) PRAGUE, December 12, 2006 (RFE/RL) -- Human Rights Watch today urged Afghan President Hamid Karzai to establish a special court to try cases against warlords accused of committing war crimes in the past 25 years.
Brad Adams, the Asia division director of Human Rights Watch (HRW), told RFE/RL today that the Afghan government and its international backers since 2001 have "pursued a counterproductive policy" of relying on war criminals, human rights abusers, and drug traffickers instead of prosecuting them.
"We've done research and several highly placed members of the current Afghan government and legislature have been implicated in war crimes during the fighting in Kabul in the early 1990s," he said. "Prominent among the people who were responsible for this were [parliamentarians Abdul Rabb al-Rasul] Sayyaf, [Muhammad Qasim] Fahim, [Burhanuddin] Rabbani, [Minister of Energy] Ismail Khan, [Army Chief of Staff Abdul Rashid] Dostum, and [current Vice President Karim] Khalili. All of them are in positions of authority now. And all of them are facing allegations of [continuing to carry out] human rights abuses now in the present. Other people that we've identified as possible war criminals are Gulbuddin Hekmatyar -- hiding out somewhere in southeastern Afghanistan -- and Taliban leaders such as Mullah Omar, Mullah Daudullah, and Jalaluddin Haqqani."
Adams says research by Human Rights Watch shows that Afghans are losing confidence in their central government and its backers because alleged war criminals are in positions of authority.
RFE/RL Afghanistan Report

SUBSCRIBE For regular news and analysis on Afghanistan by e-mail,
subscribe to "RFE/RL Afghanistan Report."