Czechs Call On Belarus To Free Opposition Leader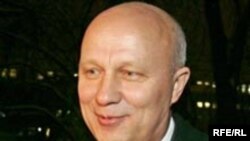 Alyaksandr Kazulin (file photo) (RFE/RL) December 14, 2006 -- The Czech government has called on Belarus's authorities to release the opposition leader Alyaksandr Kazulin from prison and to provide him with immediate health care.
The call came after four major Central European newspapers -- the Czech paper "Lidove Noviny", Poland's "Gazeta Wyborcza", Lithuania's "Lietuvos Rytas", and Slovakia's "SME" -- published an open letter on December 13 urging their respective governments to press for Kazulin's release.
Kazulin, who was jailed for five and a half years for leading protests against the reelection in March of President Alyaksandr Lukashenka, ended a 53-day hunger strike on December 12.
(AP, lidovky.cz, Charter 97)

RFE/RL Belarus, Ukraine, And Moldova Report

SUBSCRIBE For weekly news and analysis on Belarus, Ukraine, and Moldova by e-mail,
subscribe to "RFE/RL Belarus, Ukraine, And Moldova Report."