Bosnia, Montenegro, Serbia Join NATO Program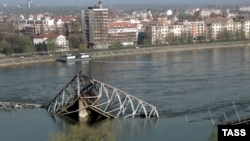 NATO destroyed significant elements of Serbia's infrastructure in 1999 in an attempt to force Serbian troops out of Kosovo (file photo) (ITAR-TASS) December 14, 2006 -- Leaders of Bosnia and Herzegovina, Montenegro, and Serbia today signed documents marking the three countries' formal accession to the alliance's Partnership for Peace program.
The documents were signed in Brussels.
NATO leaders agreed to bring the three nations into the program at their summit last month in Latvia.
The program is considered a important step on the way of joining NATO.
(AP, AFP)