Two locations in Hamburg visited by a Litvinenko contact have been found to show traces of the radioactive substance polonium-210.
Litvinenko died in London late last month from polonium-210 poisoning.
His contact, Dmitry Kovtun, visited Hamburg before he flew to a meeting with Litvinenko in London.
Kovtun himself is said to have symptoms of radiation poisoning.
(Interfax, AP)

Aleksandr Litvinenko: A Timeline
Aleksandr Litvinenko: A Timeline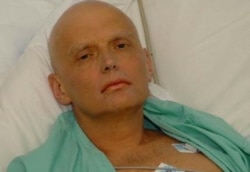 CLOAK AND DAGGER: A timeline of a murder case that unraveled after Andrei Litvinenko, a former Russian security officer and vocal Kremlin critic, dies on November 23, 2006, of poisoning by radioactive isotope polonium-210.
In a deathbed letter, Litvinenko blames Russian President Vladimir Putin for his death -- a claim Putin condemns.
Investigators center on two meetings in London that Litvinenko had described -- one in which he met with two Russians for tea in London, and another in which he met with a third Russian at a sushi bar.
Six months later, British prosecutors announce they have enough evidence to charge a Russian citizen -- one of the men who had met with Litvinenko for tea -- with the murder ...more...
MORE: Coverage in Russian from RFE/RL's Russian Service.
ARCHIVE
RFE/RL's English-language coverage of
Russia
.
SUBSCRIBE
For news and analysis on Russia by e-mail,
subscribe to "RFE/RL Russia Report."