Meanwhile, a Hamburg prosecutor has suggested that a Litvinenko contact who is said to have met with him shortly before he fell ill -- and has since been reported ill -- might be investigated as "a perpetrator."
Businessman Dmitry Kovtun has been described in various states since an Interfax report on December 7 suggested he had fallen into a coma.
Reuters reported today that German authorities are investigating Kovtun on suspicion that he illegally handled radioactive material.
Hamburg chief prosecutor Martin Koehnke is quoted by the agency as telling a news conference that there is "a reasonable basis for suspicion that [Kovtun] may not just be a victim but could also be a perpetrator."
Widow's Allegation
In her first public comments since her husband's November 23 death, Marina Litvinenko told Britain's "Mail on Sunday" newspaper that she would not help Russian authorities with their investigation of the case. She said she does not believe they will tell the truth.

The Russian government has denied any role in the death of Litvinenko, who fell fatally ill after ingesting the rare radioactive substance polonium-210.
Litvinenko was a harsh critic of Russian President Vladimir Putin, and was said to be looking into the circumstances around the recent murder of Russian journalist Anna Politkovskaya when he was poisoned.
"Obviously it was not Putin himself, of course not," Marina Litvinenko told the "Mail on Sunday." "But what Putin does around him in Russia makes it possible to kill a British person on British soil," she said, referring to her husband's having obtained British citizenship just a month before he was believed to have been poisoned.
"I believe that it could have been the Russian authorities" who killed Litvinenko, she added.
Aleksandr Litvinenko wrote a statement that was read after his death in which he fingered President Putin as being responsible for his poisoning.
Polonium In Germany

German authorities say traces of a radioactive substance found in homes visited by Kovtun "clearly" indicate polonium-210.

Police detected radioactivity in the Hamburg apartment of Kovtun's ex-wife, as well as in the home of his former mother-in-law.

Kovtun met Litvinenko in London on November 1 shortly before Litvinenko fell ill.
(compiled from agency reports)
Aleksandr Litvinenko: A Timeline
Aleksandr Litvinenko: A Timeline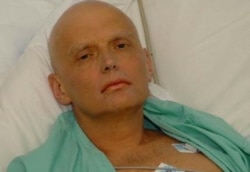 CLOAK AND DAGGER: A timeline of a murder case that unraveled after Andrei Litvinenko, a former Russian security officer and vocal Kremlin critic, dies on November 23, 2006, of poisoning by radioactive isotope polonium-210.
In a deathbed letter, Litvinenko blames Russian President Vladimir Putin for his death -- a claim Putin condemns.
Investigators center on two meetings in London that Litvinenko had described -- one in which he met with two Russians for tea in London, and another in which he met with a third Russian at a sushi bar.
Six months later, British prosecutors announce they have enough evidence to charge a Russian citizen -- one of the men who had met with Litvinenko for tea -- with the murder ...more...
MORE: Coverage in Russian from RFE/RL's Russian Service.
ARCHIVE
RFE/RL's English-language coverage of
Russia
.
SUBSCRIBE
For news and analysis on Russia by e-mail,
subscribe to "RFE/RL Russia Report."