The former Federal Security Service (FSB) officer died in London last month from poisoning by the rare radioactive isotope polonium-210.
Since then, British authorities have literally followed the polonium trail to more than a dozen locations in London, three British Airways jets, and a handful of potential suspects in Moscow.
'Open' For Cooperation
Among those is Andrei Lugovoi, the former FSB major and private security guard and who met with Litvinenko on November 1, the day Litvinenko fell ill.
Lugovoi maintains his innocence. Speaking to RFE/RL on December 5 from the Moscow hospital where he is reportedly being tested for traces of radiation poisoning, he repeated that he is ready to assist investigators, who are expected to speak to him today.
"Nobody at the hospital is hiding the fact that I have been undergoing medical examinations since last week, which I informed a Scotland Yard detective about," Lugovoi said. "We are open [for cooperation] and [the investigators] have the phone numbers of my assistants, my office phone numbers and my own mobile-phone number."
Two other Russians, Dmitry Kovtun and Vyacheslav Sokolenko, were present at the meeting with Lugovoi and Litvinenko. Kovtun was questioned today, and Sokolenko is due to speak to investigators in the coming days.
A fourth potential source, former security officer Mikhail Trepashkin, is currently serving a four-year term after being convicted of divulging state secrets -- a fact Russian prosecutors say bars British investigators from gaining access to him.
His lawyers say he has information relevant to the Litvinenko case.
When In Russia...
The British investigation hit a possible setback on December 5, when Russian Prosecutor-General Yury Chaika announced that Russian investigators will conduct the interviews with Lugovoi and other potential suspects.
The Britons will attend the interviews, he said, but will not be allowed to lead the questioning.
Chaika also said that any Russian citizen implicated in the case would be tried in Russia, not Britain. Asked about potential extraditions, he said simply, "That is not possible."
"The investigation is being conducted on the territory of our country, so in accordance with all international norms we will conduct the investigation and they can participate in it with our permission, which we may or may not grant." -- Russian Prosecutor-General Yury Chaika on December 5
At the same time, however, he suggested that Britain should turn over two men whose extradition has long been sought by Russia -- self-exiled businessman Boris Berezovsky and Chechen separatist envoy Akhmed Zakayev.
"I think in any case, sooner or later, Britain will have to hand over Berezovsky and Zakayev, because there is more and more evidence every day about the crimes they have committed," Chaika told reporters. "And this is exactly the case where I believe the motives for [Britain's] refusal to extradite them are political."
Litvinenko was an associate of both Berezovsky and Zakayev. Russia's extradition claims, however, are not related to the Litvinenko case.
Radiation Trail Continues
Investigators are continuing their work in London as well. Health officials today announced that low levels of polonium-210 have been found at two locations at the city's Emirates Stadium.
Lugovoi attended a soccer match at the stadium on November 1, the same day he met with Litvinenko.
A spokeswoman for Britain's Health Protection Agency said the radiation was "barely detectable" and posed no public-health risk.
Health officials today also pronounced radiation-free a London sushi bar where Litvinenko held a second meeting on November 1.
Mario Scaramella, the Italian security consultant who met there with Litvinenko, has been found to have low levels of polonium-210 in his body. He has shown no effects of radiation poisoning, however.
Scaramella met Litvinenko when the two served together on an Italian parliamentary investigation into activity by the Russian security services.
He said he met with Litvinenko on November 1 to warn him that Litvinenko's life might be in danger.
Litvinenko was a staunch Kremlin critic and before his death blamed Russian President Vladimir Putin for his poisoning.
The Kremlin has steadfastly denied any involvement by it or Russia's security organs.
Russian Deputy Prime Minister and Defense Minister Sergei Ivanov told a Greek newspaper on December 5 that Litvinenko was a relatively low-level FSB employee with no potentially significant inside information.
Ivanov said Litvinenko rose from the Russian Interior Ministry to join the newly formed organized-crime unit of the FSB in the mid-1990s.
(with agency reports)
Aleksandr Litvinenko: A Timeline
Aleksandr Litvinenko: A Timeline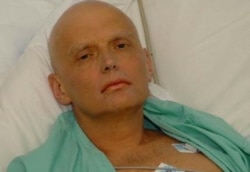 CLOAK AND DAGGER: A timeline of a murder case that unraveled after Andrei Litvinenko, a former Russian security officer and vocal Kremlin critic, dies on November 23, 2006, of poisoning by radioactive isotope polonium-210.
In a deathbed letter, Litvinenko blames Russian President Vladimir Putin for his death -- a claim Putin condemns.
Investigators center on two meetings in London that Litvinenko had described -- one in which he met with two Russians for tea in London, and another in which he met with a third Russian at a sushi bar.
Six months later, British prosecutors announce they have enough evidence to charge a Russian citizen -- one of the men who had met with Litvinenko for tea -- with the murder ...more...
MORE: Coverage in Russian from RFE/RL's Russian Service.
ARCHIVE
RFE/RL's English-language coverage of
Russia
.
SUBSCRIBE
For news and analysis on Russia by e-mail,
subscribe to "RFE/RL Russia Report."