His rule, between 1964 and 1982, over a peacetime union was short on geopolitical drama. Instead, it was characterized by relative stability, predictability, and the slow, somber start of economic decline.
But, with the 100th anniversary of his birth on December 19, many people in the former Soviet Union who have seen their lives turned upside down by the collapse of the USSR and the rude awakening of market realities now look back with nostalgia to life under Brezhnev.
A state-run poll conducted in 2005 found that 31 percent of Russians would prefer to live during the Brezhnev era. Not quite as robust an endorsement as the 39 percent who preferred life under current President Vladimir Putin -- but far better than the 1 percent who said life was best during the tumultuous 1990s under Boris Yeltsin.
Happy Memories
Golzada Rzayeva is a 58-year-old living in Chally in the republic of Tatarstan. Also known as Naberezhnyye Chelny, the city between 1982 and 1988 enjoyed a brief period under a third name -- Brezhnev.

An RFE/RL audiovisual presentation (RealPlayer required) ...more
Rzayeva, the longtime head of the local cultural center, says she has good memories of the Brezhnev era.
"This was a very good, youthful time, we lived with youthful enthusiasm, without problems. There was just one problem at that time: finding nice clothes," Rzayeva said.
Vyacheslav Komarov, a 69-year-old pensioner, is similarly enthusiastic. Komarov lives in Dnepropetrovsk, Ukraine's third-largest city and a key industrial center in the Soviet Union that is also a short distance from Brezhnev's birthplace of Dneprodzherzhinsk.
Under Brezhnev's rule, Komarov worked at a restricted weapons facility. But even such a serious occupation, he says, did not prevent employees from taking time to enjoy themselves at work.
"Under Brezhnev, feasts and parties were permitted. On any holiday, even on Paris Commune day, we got together, set the table, and had a nice party at work. We were always having some kind of celebration," Komarov said.
Russia's Channel One television station is marking the 100th anniversary of Brezhnev's birth by broadcasting a film depicting the Soviet leader as a kindly soul who loved his wife, fought for the common man, and was ultimately duped by sinister associates like former KGB head Yury Andropov.
Self-Promoter
Reality, however, paints a slightly less rosy picture. Brezhnev in fact was a talented self-promoter who rose rapidly through the ranks of the Communist Party, heading branches in Ukraine and Kazakhstan after World War II.
He was among the plotters that ousted Nikita Krushchev in 1964; Brezhnev subsequently became the first party secretary.
He orchestrated the crushing of Czechoslovakia's reformist Prague Spring in 1968. That, in turn, trampled any reformist aspirations back home in the Soviet Union.
"There was just one problem at that time: finding nice clothes."
He was known as an efficient bureaucrat and an able diplomat -- two factors that led to the Soviet Union's growing international prestige.
In the 1970s, Brezhnev cultivated the Soviet Union's relations with China, preventing a Washington-Beijing alliance. And the signing of the Anti-Ballistic Missile (ABM) Treaty and a protocol on nuclear arms reductions in 1972 ushered in a period of detente with the United States.
Brezhnev was leader during the invasion of Afghanistan, where Soviet forces helped the communist government fight against mujahedin insurgents. Thousands of Afghans and Soviet soldiers lost their lives in the war, which lasted over eight years.
Era Of Stagnation
Brezhnev was eager to cultivate an image of a dashing military officer. His role in the World War II battle of Malaya Zemlya was immortalized in a ghostwritten autobiography and this classic song by composer Aleksandra Pakhmutova and performed by the best-known artists of the day, including Iosif Kobzon.
In military terms, the battle itself was relatively unimportant. But its overstated importance in Soviet life came to embody Brezhnev's cult of personality, which characterized the later years of his life.
Brezhnev's appearance was striking. Dark, bushy eyebrows, swept-back hair, and puffy jowls hanging from his jaw.
His military uniforms were always bedecked with the medals that he would award himself on his birthday. This and his taste for fine clothes and foreign cars began to set him apart from the people.
This became particularly pronounced as the Soviet Union began its marked decline into the stagnation period, due in large part to Brezhnev's faulty economic judgment.
Brezhnev Jokes
Perhaps one of Brezhnev's most lasting legacies -- the scores of jokes poking fun at the Soviet leader's stodgy appearance, atonal mumbling, and general reputation for less-than-brilliant mental skills.
Sergeyeva remembers one of those jokes: "After a speech Brezhnev shouts at his speech writer: 'I ordered you to write a 15-minute speech, but it took me a whole hour to read!' 'Sorry, Leonid Ilyich,' he answered, 'there were four copies, and you read them all.'"
Or there's the one about Brezhnev's plans to dominate the space race:
"Comrades," he said, I have a plan to overtake the U.S. in the space race -- you will land on the sun!"
"But Comrade Brezhnev," they protested, "we'll burn up!"
"Don't take me for a fool," he said, "you'll land at night!"
Brezhnev's cult status was so dominant that even his memory can send people time-traveling back to their youth in the 1970s -- albeit in funny ways.
Niyazi Mehdi, a philosophy professor who lives in the Azeri capital, Baku, recalls a visit to the city by Brezhnev, during which the Soviet leader erroneously referred to Azerbaijan as Afghanistan.
And that, he says, was just the beginning.
"I had a teacher friend from the art university, Nasir. One of his students told him that ahead of Brezhnev's visit to Azerbaijan, a group of students from the university were taken to the streets to rehearse the ritual greeting for Brezhnev," Mehdi said. "The black Volga presumably carrying Brezhnev would suddenly appear from the corner of the building and students would start dancing. These rehearsals lasted 10 days. Ever since then, he says, whenever he sees a black Volga he always wants to dance."
Old, Mumbling
The final years of Brezhnev's rule were marked by a rapid decline in health.
By the time of the 26th Party Congress, in 1981, his speech had deteriorated to a near-incoherent mumble -- even if his audience remained as publicly respectful as ever.
Scores of jokes poke fun at Brezhnev's stodgy appearance, atonal mumbling, and reputation for less-than-brilliant mental skills
Months after suffering a stroke, Brezhnev died of a heart attack on November 10, 1982.
Not all the memories of Brezhnev lingering in the hearts of Soviet people were positive.
For him and others like him, Mehdi said, life under Brezhnev was stifling -- both intellectually and personally.
"I can note the absence of freedom of speech. For people like me, the thinkers, it was very painful. The other factor, which was very disappointing thing along with the suppression of freedom of speech was the process of assimilation and Russification of Azerbaijan," Mehdi said. "In public everybody were talking about the friendship of nations, but the assimilation and Russification of Azerbaijan was something we were angry about."
Little Freedom
Nor did the lives of the people become substantially better. Despite government promises that living standards would rise, there was little capital to invest in modernizing the health or education sectors.
Even Komarov, the pensioner in Ukraine, notes that the reality of Soviet life fell short of the propaganda.
"The plus was that there weren't any major shocks. The minus is that life got worse. Under Brezhnev, the international situation was so-so. We were opening to the world, but at the same time it wouldn't let us in. People said we were free, but this was true only on paper," Komarov said.
On December 19th, the 100th anniversary of his birth, commemorations are likely to be muted. For an entire generation, the date is an opportunity to wax nostalgic not only about Leonid Brezhnev, but about the simpler, more stable, days of their youth.
Even those, like Mehdi, who have few fond memories of the Brezhnev era, say there was a special innocence to that time that can never be recaptured.
"Soviet citizens were deprived when it came to the material world. [They] were deprived of Marlboro [cigarettes], jeans. These are material things. They were also deprived of other things. For example: absurdist theater and rock music. And this deprivation was the main difference between the Soviet people and the people of the Western world," Mehdi said.
"[But] the Brezhnev era had its own beauty. Because Soviet people weren't exposed to many things they were easily excitable. People would find Marlboro cigarettes and get excited. They would find Czech beer and get excited. Or they would buy Italian or Czech shoes and would get excited. Nowadays, people are not so excitable anymore. All of these things are easily available next to any metro station."
(RFE/RL's Azerbaijani, Kazakh, Tatar-Bashkir, and Ukrainian services all contributed to this report.)
Brezhnev Remembered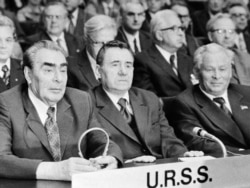 Leonid Brezhnev (left) with Andrei Gromyko (center) and Konstantin Chernenko at an international conference in Helsinki in 1975 (TASS)

LOOKING BACK. December 19 marks the 100th anniversary of the birth of former Soviet leader Leonid Brezhnev. People throughout the former Soviet Union are reflecting on the long years of his rule (1964-82)....(more)
LISTEN
Listen to the Soviet announcement of Brezhnev's death on November 10, 1982 (about two minutes in Russian):
Real Audio
Windows Media
LISTEN
Listen to Leonid Brezhnev, speaking on the occasion of the 60th anniversary of the Bolshevik Revolution in 1977 (about 4 1/2 minutes, in Russian):
Real Audio
Windows Media
COVERAGE FROM RFE/RL'S LANGUAGE SERVICES:
Russian Service (in Russian)
Russian Service (in Russian)
Kyrgyz Service (in Kyrgyz)
Kazakh Service (in Kazakh)
Tajik Service (in Tajik)
Tajik Service (in Tajik)
Georgian Service (in Georgian)
Georgian Service (in Georgian)
Belarus Service (in Belarusian)
Tatar-Bashkir Service (in Tatar)