Iraqi Red Crescent Halts Work In Baghdad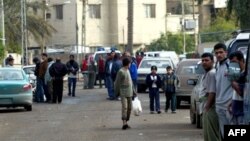 Police securing the Red Crescent office in Baghdad on December 17 (AFP) December 18, 2006 -- The Iraqi Red Crescent says it has halted its operations in Baghdad following the mass kidnapping of more than two dozen staff at its biggest office in the Iraqi capital.
A day after the abductions, the organization's secretary-general, Mazen Abdullah, said that only the Baghdad operations were stopped, to create more "pressure to free those who have been kidnapped."
"We are looking to help the Iraqi people everywhere without dealing with their ethnic or religious or political issues, just helping the displaced people, the disabled, and also the refugees everywhere, try to help the Iraqi people," he said. "Those staff are working hard every day to help the Iraqi people everywhere, so I ask [the hostage takers] to release them directly."
Earlier today, the International Committee of the Red Cross called for the immediate and unconditional release of abducted Iraqi Red Crescent staff.
Meanwhile, the US military announced today that two U.S. troops have died from injuries sustained during clashes in Iraq's flash point Al-Anbar Governorate west of Baghdad.
The military said one died on December 15 and the second on December 16.
(compiled from agency reports)
On The Verge Of Civil War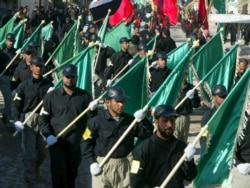 The Imam Al-Mahdi Army on parade (epa)
HAS THE CONFLICT IN IRAQ BECOME A CIVIL WAR? Many observers have concluded that the tit-for-tat sectarian violence that emerged after the February 2006 bombing of a mosque in Samarra has become a full-blown civil war.... (more)


RELATED ARTICLES
U.S. Media Starts Using 'Civil War' Label
Iraqi Prime Minister Under Fire From All Sides
U.S. Expert Discusses Prospects For Stabilization
President Says Iraq Needs Iran's Help
Saudi Arabia To Seal Off Border With Security Fence

THE COMPLETE PICTURE:
Click on the image to view RFE/RL's complete coverage of events in Iraq and that country's ongoing transition.