Senator Harry Reid (Nevada), speaking on U.S. television, said he would support the troop increase if U.S. President George W. Bush proposed it as part of a broader plan to withdraw U.S. forces by early 2008.
But Reid said the Democrats would not support a long-term deployment of more U.S. forces. There are currently some 135,000 U.S. troops in Iraq.
Meanwhile, the U.S. military said on December 17 that it plans to speed up the training of Iraq's army by tripling its number of embedded trainers to about 9,000.
U.S. Brigadier General Dana Pittard said the increase in trainers would take place over the next few months. He also said each of Iraq's nine police brigades would be taken off the streets over the next nine months for one month-long training.
A number of police units have been accused of stirring up sectarian violence.
British Prime Minister Tony Blair was in Baghdad on December 17, where he pledged his full support for Iraqi Prime Minister Nuri al-Maliki and urged neighboring countries not to undermine the Iraqi government.
Blair pledged that British troops will remain in Iraq until local security forces are ready to take over.
The British leader also travelled to Al-Basrah in southern Iraq to meet some of the 7,000 British troops stationed in the area.
(compiled from agency reports)
The International Coalition In Iraq
The International Coalition In Iraq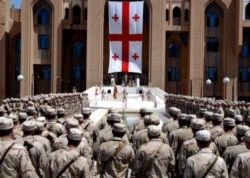 Georgian soldiers marking Georgian Independence Day in Baghdad on June 6 (epa)
COALITION MEMBERS: In addition to the United States, 28 countries are Multi-National Force-Iraq (MNF-I) contributors as of May 31, 2006: Albania, Armenia, Australia, Azerbaijan, Bosnia-Herzegovina, Bulgaria, the Czech Republic, Denmark, El Salvador, Estonia, Georgia, Italy, Japan, Kazakhstan, Latvia, Lithuania, Macedonia, Moldova, Mongolia, the Netherlands, Poland, Portugal, Romania, Singapore, Slovakia, South Korea, Ukraine, and the United Kingdom. Fiji is participating as part of the UN mission in Iraq. Hungary, Iceland, Slovenia, and Turkey are NATO countries supporting Iraqi stability operations but are not part of MNF-I.
NON-U.S. MILITARY PERSONNEL IN IRAQ: United Kingdom, 8,000 as of May 26, 2006; South Korea, 3,237 as of May 9, 2006; Italy, 2,900 as of April 27, 2006; Poland, 900 as of May 30, 2006; Australia, 900 as of March 28, 2006; Georgia, 900 as of March 24, 2006; Romania, 860 as of April 27, 2006; Japan, 600 as of May 30, 2006; Denmark, 530 as of May 23, 2006; All others, 1,140.
(Source: The Washington-based Brooking Institution's Iraq Index of June 15, 2006)


THE COMPLETE STORY: RFE/RL's complete coverage of events in Iraq and that country's ongoing transition.
RADIO FREE IRAQ: To visit the Arab-language website of RFE/RL's Radio Free Iraq, click here.