Former U.S. Congressman Lee Hamilton (Democrat) said the Iraq Study Group would not release its conclusions until December 6.
But "The New York Times," quoting people familiar with the deliberations, said the panel would recommend U.S. troops gradually pull back.
The newspaper said the panel's report did not state whether U.S. combat troops should be brought home or pulled back to bases in Iraq or neighboring countries.
It also said the panel would stop short of setting a specific timetable for withdrawal.
The panel, headed by Hamilton and former U.S. Secretary of State James Baker, has spent months examining alternatives for U.S. policy in Iraq, with some of its members reportedly favoring engaging with Syria and Iran.
(Reuters, AP)
The International Coalition In Iraq
The International Coalition In Iraq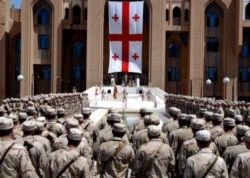 Georgian soldiers marking Georgian Independence Day in Baghdad on June 6 (epa)
COALITION MEMBERS: In addition to the United States, 28 countries are Multi-National Force-Iraq (MNF-I) contributors as of May 31, 2006: Albania, Armenia, Australia, Azerbaijan, Bosnia-Herzegovina, Bulgaria, the Czech Republic, Denmark, El Salvador, Estonia, Georgia, Italy, Japan, Kazakhstan, Latvia, Lithuania, Macedonia, Moldova, Mongolia, the Netherlands, Poland, Portugal, Romania, Singapore, Slovakia, South Korea, Ukraine, and the United Kingdom. Fiji is participating as part of the UN mission in Iraq. Hungary, Iceland, Slovenia, and Turkey are NATO countries supporting Iraqi stability operations but are not part of MNF-I.
NON-U.S. MILITARY PERSONNEL IN IRAQ: United Kingdom, 8,000 as of May 26, 2006; South Korea, 3,237 as of May 9, 2006; Italy, 2,900 as of April 27, 2006; Poland, 900 as of May 30, 2006; Australia, 900 as of March 28, 2006; Georgia, 900 as of March 24, 2006; Romania, 860 as of April 27, 2006; Japan, 600 as of May 30, 2006; Denmark, 530 as of May 23, 2006; All others, 1,140.
(Source: The Washington-based Brooking Institution's Iraq Index of June 15, 2006)


THE COMPLETE STORY: RFE/RL's complete coverage of events in Iraq and that country's ongoing transition.
RADIO FREE IRAQ: To visit the Arab-language website of RFE/RL's Radio Free Iraq, click here.