Russia has threatened to block EU meat imports as of January 1, 2007, citing worries over animal health in Bulgaria and Romania -- two countries that will join the EU on that date.
A ban on imports of EU meat, dairy, and fish products would affect about $2.2 billion in annual trade.
Eric Kraus, the managing director of the Moscow-based equity group Nikitsky Russia Fund, says that Russia traditionally imports meat from older European countries -- France, Germany, Italy.
"Some of the European accession states are in fact selling third-party produced meat, and that the health standards on this meat produced by third parties are not sufficient," Kraus says.
Political Accusations
Some observers view the Russian threat as retaliation for the EU's decision to embrace former Soviet states that Moscow continues to regard as its own backyard.
In addition, Russia has been blocking Estonian fish imports since late November and still refuses to lift a year-old ban on meat imports from Poland.
A Russian ban on EU meat could be good news for other meat-exporting countries.
Warsaw, which claims the embargo is politically motivated, struck back last month by using its veto to block the start of EU negotiations with Moscow on a new trade and energy agreement.
'Disproportionate Action'
Moscow's stance is also starting to ruffle feathers in the European Commission.
The EU's trade commissioner, Peter Mandelson, has called Russia's actions "disproportionate" and warned that its trade tactics could harm overall trade relations with the bloc.
Nonetheless, negotiators appear confident in the outcome of today's meeting between Kyprianou and Gordeyev.
Kyprianou said the EU considered Russia's consent to hold talks on the issue a "positive sign."
Russia's ambassador to the EU, Vladimir Chizhov, told Reuters on December 18 that the talks would produce a "tangible result."
A number of experts, however, doubt today's talks will yield any important breakthrough.
The EU continues to oppose Russia's offer to strike bilateral deals with EU countries, saying such deals would run counter to the bloc's trade policy.
The bloc maintains that it has taken all necessary measures to protect EU members from the swine fever that has hit Romania and Bulgaria in the past.
New Meat Markets
If negotiations fail, how would the ban on EU imports affect the Russian meat market?
Natalya Zagvozdina, a retail market analyst at Renaissance Capital, a leading investment firm in Moscow, says the biggest problem will be with beef as prices are likely to rise sharply.
"Chicken [imports] are the easiest to cut off thanks to internal production. From the three kinds of meat, chicken enjoys the highest investment levels. As far as investment goes, the most interesting sector now is pork -- so even if EU imports are banned in 2007, there are several projects due to be launched in January 2007 that will partially cover the demand for pork," Zagvozdina says.
And Kraus says that a Russian ban on EU meat could also be good news for other meat-exporting countries.
"Brazil has been attempting to increase its penetration of the Russian agricultural market. Brazilian farms and meat exports are extremely efficient, [with] very good health standards, and a very industrial process," Kraus says. "I guess the obvious other country is the United States, whose meat exports to Russia have been limited and who would love to regain some ground."
Brazil currently supplies 45 percent of Russia's pork meat. Beef from Brazil, Argentina, Uruguay, and Paraguay account for 85 percent of beef imports to Russia.
Russia And The West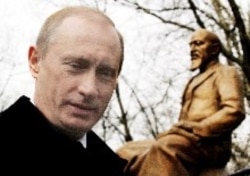 (epa)
COOPERATION, CONFLICT, CONFRONTATION: Relations between Russia and the West are notoriously volatile. "To see the kind of relationship that presidents Bush and Putin have developed and to see Russia firmly anchored in the West, that's really a dream of 300 years, not just of the post-Cold War era," then-national security adviser Condoleezza Rice said in May 2002.
But observers have increasingly called into question the extent of the shared values between Russia and the West, particularly on issues relating to the transformations going on in other former Soviet countries.
RELATED ARTICLES
Silent Diplomacy Versus Public Criticism
Analysts Say New Arms Race Unlikely
Moscow 'Unhappy' With Outcome Of CFE Conference
Moscow And Washington Spar Over WTO Membership
Russia Gears Up To Improve Its Image Abroad
Experts Urge U.S. To Rethink Relations With Russia
U.S. Official Says Russian NGO Law Part Of Antidemocratic Trend
ARCHIVE
To view an archive of RFE/RL's coverage of Russia, click here; to view an archive of RFE/RL's coverage of U.S.-Russian relations, click here.

SUBSCRIBE
For news and analysis on Russia by e-mail, subscribe to "RFE/RL Russia Report."