UN: Kofi Annan Exits The World Stage, But Only Officially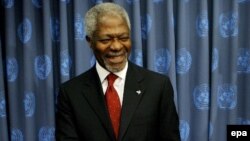 Annan speaking to reporters on December 19 (epa) UNITED NATIONS, December 20, 2006 (RFE/RL) -- During his farewell press conference, outgoing United Nations Secretary-General Kofi Annan said that leaving office does not mean he will cease his efforts to advance the goals he has been trying to push through the UN during his 10 years in office.
The fight against HIV/AIDS, development issues in Africa, and greater equality among states remain among his priorities.
As Annan wraps up his tenure as leader of the world body, he is increasingly making joint appearances with his successor, Ban Ki-moon of South Korea, who takes over the job on January 1.
"I would want to work on some of the African issues, some of the human rights and governance issues, and the global-warming issues. I will work with others and speak up from time to time when it's necessary," Annan told journalists.
On December 18, the two men faced reporters to talk about the Alliance of Civilizations initiative outside the General Assembly. Earlier in the day, the government of Spain announced it will donate $700 million toward the goals of the Alliance of Civilizations initiative. The project was initiated by former Iranian President Mohammad Khatami in 2000 and is aimed at bringing about a better understanding between Islam and Christianity.
Smooth Transition
On December 19, Annan gave his final press conference as secretary-general. He said he is working closely with Ban and the transition is proceeding smoothly.
Asked about the most urgent issues facing the UN, Annan named the crisis situations in Lebanon and Darfur. He also mentioned the unresolved Middle East conflict between the Israelis and Palestinians.
"One crisis that has an impact well beyond its borders on people far away from the conflict is the Israeli-Palestinian issue, and I'm encouraged that recently there has been a sense that we need to make a renewed attempt to resolve that issue," Annan said.
Not Going To Disappear
Although he is ending his official UN career, the 68-year-old Annan is robust and in excellent health. He said today that he intends actively to pursue the achievement of UN goals as a private citizen.
"There are many issues which have been of great concern to me over the past ten years, and I'm not going to drop them because I leave office," he said. "I will follow these issues. I would want to work on some of the African issues, some of the human rights and governance issues, and the global-warming issues. I will work with others and speak up from time to time when it's necessary."
During his 10-year reign as secretary-general, Annan earned praise from some quarters as a remarkable leader. But his tenure has also been tarnished by corruption allegations related to the UN-Iraq oil-for-food program, mismanagement, and sexual abuse scandals by UN peacekeeping personnel.
At the press conference, Annan tried to put the oil-for-food scandal into perspective.
"There may have been several UN staff members who were engaged, but the scandal, if any were, was in the capitals and with the 2,200 companies that made a deal with Saddam behind our backs," he said. "And, of course, I hope that historians will realize that the UN is more than oil-for-food."
Annan has not yet announced plans for his retirement, but it is assumed that he will continue to be engaged with the UN and other major international organizations in some capacity, perhaps as a special envoy or a mediator in conflict zones.
Annan is highly regarded around the world and his opinion is expected to continue to carry considerable weight in the realm of international politics.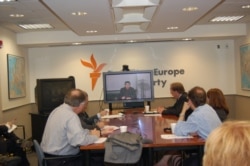 BEYOND THE HEADLINES. RFE/RL regularly hosts briefings and discussions with leading experts on our broadcast region. In 2006, some of the crucials topics were gas wars, elections in Belarus and Ukraine, Iran's nuclear program, and unrest in Central Asia....(more)
SUBSCRIBE
To receive RFE/RL briefing invitations and reports by electronic mail, send a message to
dc-response@rferl.org
with "Subscribe" in the subject line.