In an interview with the BBC, to be broadcast December 4, Annan said some Iraqis were right to think that they were worse off than under former President Saddam Hussein, ousted from power after U.S.-led forces invaded in March 2003.
Annan, whose term as the UN head ends this month, said the invasion might have proven unnecessary had UN weapons inspectors been given more time to conduct their work.
(AFP)
Sectarian Iraq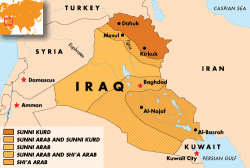 Click to enlarge the image.
SUNNI, SHI'A: Iraq is riven along sectarian lines, faults that frequently produce violent clashes and are a constant source of tension. Sectarian concerns drive much of Iraqi politics and are the main threat to the country's fragile security environment.


THE COMPLETE PICTURE: Click on the image to view RFE/RL's complete coverage of events in Iraq and that country's ongoing transition.