Iraqis Formally Take Control Of Al-Najaf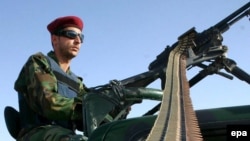 A member of the Iraqi security forces at a checkpoint in Al-Najaf (file photo) (epa) December 20, 2006 -- U.S.-led forces today formally transferred to Iraqi authorities responsibility for security in the southern province of Al-Najaf.

Speaking at a ceremony in the provincial capital of Al-Najaf, Iraqi national security adviser Muwaffaq al-Rubay'i and a U.S. commander, Brigadier General Vincent Brooks, called the transfer a "historic" event.


Al-Najaf, which is home to Iraq's most influential Shi'ite Muslim clerics, is the third of Iraq's 18 provinces to be transferred to local control.


(AP, AFP)


SUBSCRIBE For weekly news and analysis on Iraq by e-mail,
subscribe to "RFE/RL Iraq Report."