Police Seize Weapons Cache In Kosovo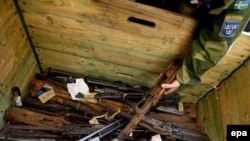 Guns found in another arms cache in Kosovo on December 9 (epa) December 21, 2006 -- Police in Kosovo have reportedly seized a large cache of illegal weapons and arrested three suspects, including members of the ruling Alliance for the Future of Kosovo.
The arms found include rockets and ammunition.
A police statement said the joint raid by police and NATO peacekeepers was conducted on December 20 at a house in central Kosovo's Drenica region.
The seizure comes as United Nations-mediated negotiations are under way to resolve the future status of the predominantly Albanian-populated Serbian province. Kosovo has been administered by the UN since 1999.
Reports quoting local officials said one of the two arrested members of the Alliance for the Future of Kosovo is a government adviser.
(AP, Reuters, AFP)