Lawmakers were expected to vote on a bill that would reverse constitutional changes limiting some of the powers of the president. Those changes were adopted by President Kurmanbek Bakiev under popular pressure after a wave of street protests.
The leader of the Kyrgyz nongovernmental organization Interbilim, Asiya Sasykbaeva in an interview with RFE/RL's Kyrgyz Service criticized the move. "They shouldn't make changes [to the Kyrgyz Constitution]," she said. "That would restore the authoritarian regime. If it does happen, why did we even adopt a new constitution, why did we carry out the March 24 [2005] revolution?"
Earlier this week, Kyrgyzstan's government resigned in a bid to help accelerate reforms and implement the newly adopted constitution in full.
(with material from Reuters)
Understanding Kyrgyzstan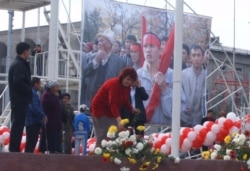 Workers preparing for celebrations of the constitutional compromise in Bishkek on November 9 (RFE/RL)


A STABLE FOUNDATION? On November 9, RFE/RL's Washington office hosted a briefing featuring RFE/RL Kyrgyz Service Director Tyntchtykbek Tchoroev and RFE/RL analyst Daniel Kimmage.
LISTEN
Listen to the complete discussion (about 80 minutes):

Real Audio
Windows Media
RELATED ARTICLES
Parliament Adopts Constitution Curtailing Presidential Powers
Crisis Deepens After President Proposes Constitutional Changes
Bishkek Prepares For Large Opposition Rally