The revised law, which reduces the powers of the president, was adopted amid widespread street protests.
It is unclear why the text has not yet been published. It is common in Kyrgyzstan for new legislation to be published within a few days of being adopted.
There are questions as to how the new constitution might affect President Kurmanbek Bakiev's powers. Questions emerged soon after the new basic law's adoption on November 9, when Bakiev signed it into law.
Some parliamentarians and nongovernmental organizations are seeking clarification as to how the president's prerogatives have changed.
Addressing parliament today, Bakiev did not explain why the new constitution had not been published. But he said he had signed its Kyrgyz version into law; the text that was adopted is in Russian.
Widespread street protests were demanding the speedy adoption of sweeping reforms or the president's resignation in an opposition push that began with an open-ended demonstration in Bishkek on November 2.
(Kabar, AKIpress)
Understanding Kyrgyzstan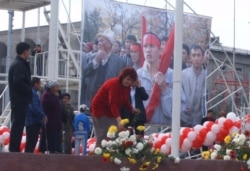 Workers preparing for celebrations of the constitutional compromise in Bishkek on November 9 (RFE/RL)


A STABLE FOUNDATION? On November 9, RFE/RL's Washington office hosted a briefing featuring RFE/RL Kyrgyz Service Director Tyntchtykbek Tchoroev and RFE/RL analyst Daniel Kimmage.
LISTEN
Listen to the complete discussion (about 80 minutes):

Real Audio
Windows Media
RELATED ARTICLES
Parliament Adopts Constitution Curtailing Presidential Powers
Crisis Deepens After President Proposes Constitutional Changes
Bishkek Prepares For Large Opposition Rally