Senator Joseph Biden, a member of the Democratic Party that will take majority control of both chambers of the U.S. Congress in January, told reporters that he believes any new U.S. troop "surge" into Iraq would be the "absolute wrong strategy."
Biden, who is from the state of Delaware, also said he intends to run for president in the 2008 election.
Biden's comments came as defense officials were quoted as saying the United States was preparing to send more than 3,000 troops from the United States to Kuwait for likely deployment in Iraq.
Bush is reported to be considering options including a short-term increase in the number of U.S. troops in Iraq in order to quell fighting and instability. The United States currently has some 135,000 troops in Iraq.
(compiled from agency reports)
On The Verge Of Civil War
On The Verge Of Civil War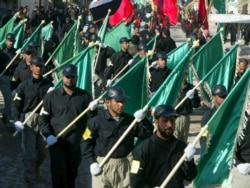 The Imam Al-Mahdi Army on parade (epa)
HAS THE CONFLICT IN IRAQ BECOME A CIVIL WAR? Many observers have concluded that the tit-for-tat sectarian violence that emerged after the February 2006 bombing of a mosque in Samarra has become a full-blown civil war.... (more)


RELATED ARTICLES
U.S. Media Starts Using 'Civil War' Label
Iraqi Prime Minister Under Fire From All Sides
U.S. Expert Discusses Prospects For Stabilization
President Says Iraq Needs Iran's Help
Saudi Arabia To Seal Off Border With Security Fence

THE COMPLETE PICTURE:
Click on the image to view RFE/RL's complete coverage of events in Iraq and that country's ongoing transition.