Iranian President Sends Message To Pope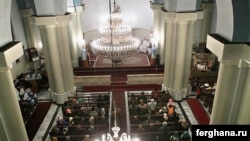 Iranian Christians celebrating Christmas in Tehran (fergana.ru) December 27, 2006 -- Iranian President Mahmud Ahmadinejad has sent a message to Pope Benedict XVI urging greater understanding between religions.
Iranian Foreign Minister Manuchehr Mottaki, who arrived at the Vatican today for talks, delivered the letter.
Iranian officials say the letter describes the importance of establishing new political and human relations based on the commonalities of world religions.
(AFP)