Prior to those amendments the constitution stated that an acting or interim president was ineligible to run in an extraordinary presidential election.
The Halk Maslahaty (People's Assembly), Turkmenistan's highest legislative body, on December 26 approved Berdymukhammedov and five other candidates for the race.
It remains unclear if Turkmen authorities will permit the exiled political opposition to compete in the February presidential election.
The opposition Watan (Homeland) movement has put forward its leader, former government official Khudaiberdy Orazov, as a candidate, but Turkmenistan's interim government has so far refused to permit exiled opponents of the regime to return.
In related news, parliament speaker Ovezgeldy Ataev who, constitutionally, should have become acting president last week when President Saparmurat Niyazov died, was today officially dismissed from his post.
Another amendment makes the deputy prime minister, not speaker of parliament, acting head of state should the president die.
In addition to the February 11 presidential election, there will an election on February 14 for the chairman of the Halk Maslahaty.
Another amendment to the constitution lowers the eligible age for the Halk Maslahaty chairman from 55 to 40.
Other amendments stipulate that a Halk Maslahaty chairman must have lived in Turkmenistan for 15 years, speak fluent Turkmen, and have served in a senior government post.
(with material from agency reports)
Saparmurat Niyazov, 1940-2006
Saparmurat Niyazov, 1940-2006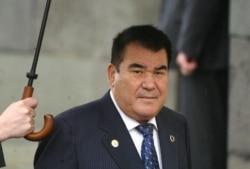 Turkment President Saparmurat Niyazov (bymedia.net)

ERA OF UNCERTAINTY. The death of Turkmen President Saparmurat Niyazov ends an era and begins a period of great uncertainty in Turkmenistan....(more)
RELATED ARTICLES
Could Niyazov's Death Lead To Political Struggle, Instability?
President's Death Brings Muted World Reaction
Energy Analyst Discusses Impact Of Niyazov's Death
Niyazov's Death Prompts Integration Hopes, Gas Worries In Russia
ARCHIVE
RFE/RL's coverage of
Turkmenistan
.