Niyazov was referred to by his country's media as "Beyik Serdar," the great leader, and "Turkmenbashi," literally the head of all Turkmen.
It was understood years ago that replacing him would be a virtually impossible task. But few could have expected that his immediate replacement would be a dentist.
Dubious Qualifications For Leadership
It is more than fair to say that prior to December 21, when the announcement of Niyazov's death was made, practically no one had ever heard of Gurbanguly Berdymukhammedov, who is now interim leader of Turkmenistan.
On paper, Berdymukhammedov has no qualifications to lead a country. He graduated from dental school in 1979 and worked in that field exclusively until 1997, when he was named minister of health and the medical industry. Later, in 2001, he became a deputy prime minister.
During Berdymukhammedov's tenure as health minister, regional medical centers were closed down, supplies of medicine became scarce, and the number of employees in the medical sector and students studying to be doctors and nurses were cut.
In his first hours as interim leader, Berdymukhammedov kept his comments to a minimum and also kept to the same commentary heard when Niyazov was alive.
Berdymukhammedov confined his few public comments to matters such as the following: "As you know, today there was held an extraordinary session of the Security Council of Turkmenistan, cabinet ministers of Turkmenistan, and parliament. The issues of organizational matters were discussed in connection with the sudden death of our dear Turkmenbashi the Great, beloved son of the Turkmen people."
Berdymukhammedov seems likely to be a transitional leader. The Halk Maslahaty (People's Council) is due on December 26 to name a date and candidates for a presidential election, expected to be held no later than March.
Directors Of Succession Unclear
As intriguing as the choice of Berdymukhammedov for interim leader is, the big question remains "who selected him?" Turkmen media have not made clear how Berdymukhammedov was chosen but it is significant that the man who constitutionally should have become interim leader, parliament speaker Ovezgeldy Ataev, is reportedly facing criminal charges that were presented to him shortly after Niyazov's death was made public.
The same people who chose Berdymukhammedov seem to have not only prevented Ataev from stepping in to take the top post -- but also believed it was better to have Ataev taken out of the political scene entirely.
Such backroom politics seem likely to plague whoever is chosen to succeed Niyazov. The likely kingmakers in Turkmenistan are National Security Committee (KNB) head Geldymukhammed Ashirmukhammedov and Interior Minister Akhmamed Rakhmanov.
Under Niyazov, the Interior Ministry and the KNB were tasked with keeping the people in line, preventing any hint of dissent from spreading in the country, and maintaining Niyazov's unquestionable control.
The loyalty of the people heading the Interior Ministry and KNB is indispensable to anyone who follows Niyazov. But Niyazov regularly purged almost every ministry and the KNB. Both Ashirmukhammedov and Rakhmanov were appointed only in December 2004.
Many of their predecessors and a large number of other former officials left their posts in disgrace and were later jailed on criminal charges. Today's Interior Ministry and KNB chiefs may be just as corrupt as their predecessors were, which raises the stakes for them to preserve the system Niyazov created.
The policy of sacking officials and disgracing them has naturally bred a culture of suspicion and paranoia among government officials, something that could seriously affect the transition of power.
Niyazov was also clearly the commander of the armed forces and, according to the media, the country's best farmer and main planner for grandiose projects such as the artificial lake being constructed in the middle of the Gara-Gum Desert; the great mosque in Niyazov's home village of Gipchak; and countless other projects.
Niyazov's successor will unlikely to be able to cultivate such an image or keep control over all these facets of running the country.
Another problem will be foreign policy. Niyazov isolated Turkmenistan from the rest of the world under the banner of neutrality.

Russia Looks On With Interest
The country has no real friends -- only economic partners interested in Turkmenistan's energy resources. Niyazov's poor human rights record kept ties with the West from advancing very far, and he never had good relations with Russia, which controls the key oil and natural-gas pipelines that bring Turkmen oil and gas to consumers in the West. Niyazov also chose in 2005 to downgrade Turkmenistan's participation in the CIS to "associate" status.
Russia will be particularly anxious to exert greater influence over the course of events in Turkmenistan to keep Turkmen energy exports flowing through Russian pipelines.
But it will also be eager to shore up the CIS alliance, which is still experiencing difficulties due to the "colored revolutions" that brought more democratic governments to Ukraine and Georgia that now court stronger ties with the West, even when it conflicts with Russian or CIS interests.
With control over the major export pipelines out of Turkmenistan and a sizable Russian population inside Turkmenistan, Russia is well positioned to apply pressure on future Turkmen leaders.
Opposition To End Exile?
Meanwhile, Turkmenistan's opposition in exile is now looking to take advantage of Niyazov's departure.
Chary Ishanyazov, a deputy leader of the opposition Republican Party, told RFE/RL's Turkmen Service that groups in the exiled opposition have already made a decision to return to the country at the first opportunity.
"The moment has arrived when the opposition forces of Turkmenistan currently outside the borders of Turkmenistan should return to Turkmenistan," he said.
But most are themselves former government officials and many have been outside the country for a decade or more. Further, given the numerous examples of Turkmen government officials who were jailed on corruption charges, the population could view any returning former-official-turned-opposition-leader as likely being just as corrupt.
The Turkmen people themselves are another question. Reports out of Turkmenistan so far indicate the country is calm and people are going about their everyday business. The culture of fear Niyazov created will be difficult to shake, making any possibility of a popular revolution remote in the near future.
But no leader after Niyazov will command the same respect --even if via fear -- that Turkmenbashi did and that in itself could prompt popular discontent. Again, much depends on the loyalty of the security services to continue Niyazov's constant watch on society for the next leader.
Saparmurat Niyazov, 1940-2006
Saparmurat Niyazov, 1940-2006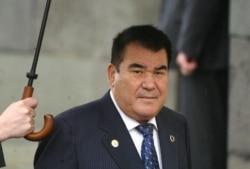 Turkment President Saparmurat Niyazov (bymedia.net)

ERA OF UNCERTAINTY. The death of Turkmen President Saparmurat Niyazov ends an era and begins a period of great uncertainty in Turkmenistan....(more)
RELATED ARTICLES
Could Niyazov's Death Lead To Political Struggle, Instability?
President's Death Brings Muted World Reaction
Energy Analyst Discusses Impact Of Niyazov's Death
Niyazov's Death Prompts Integration Hopes, Gas Worries In Russia
ARCHIVE
RFE/RL's coverage of
Turkmenistan
.