Olga Tejenova told RFE/RL from Moscow today that her 70-year-old father is currently in a hospital in the eastern city of Turkmenabat, formerly known as Charjew.
"My neighbor called me [on October 23]; she told me my father had been released," Tejenova said. "[The neighbor] said my father had been transferred to a hospital to undergo surgery. He already had surgery in February, as far as I know, but apparently his state of health required that he have another [operation]. Neighbors have already visited him [in the hospital]; they say his health is okay. The only problem is that he got a lot thinner. But his health is satisfactory."
Tejenova said she hoped her father would soon be released from the hospital.
It was not immediately clear what prompted authorities to release Tejenov.
However, Tejenova suggested that he may have benefited from October's traditional presidential amnesty, under which more than 10,000 inmates were set free.
Tejenov was arrested in January and sent to a psychiatric hospital under charges that remain unclear.
Turkmen authorities have consistently denied rights groups' reports that he had been detained, or even confined to a psychiatric institution.
Prior to his detention, Tejenov had sent letters of protest to local authorities in which he decried the policies of President Saparmurat Niyazov's government.
He is the author of a "Statement on Human Rights Violations in Turkmenistan," which he tried to circulate among foreign embassies and international organizations.
Human Rights In Turkmenistan
Human Rights In Turkmenistan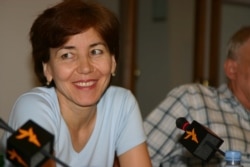 Tajigul Begmedova speaking at RFE/RL in Prague on July 21 (RFE/RL)
LIFE UNDER NIYAZOV:
On July 21, RFE/RL's Prague broadcasting center hosted a presentation by
TAJIGUL BEGMEDOVA,
chairwoman of the Bulgaria-based Turkmenistan Helsinki Foundation for Human Rights (THF). Begmedova discussed the human rights situation in Turkmenistan under President Saparmural Niyazov, focusing on the arrests in June of THF activists and RFE/RL Turkmen Service correspondent Ogulsapar Muradova. Begmedova, who graduated from the Institute of Economy in Moscow in 1987, fled Turkmenistan in 2002 and lives in exile in Sofia.
LISTEN
Listen to the complete presentation (36 minutes; presentation in Russian with consecutive translation into English):

Real Audio
Windows Media
Some RFE/RL Coverage Of Human Rights In Turkmenistan:
Media Coverage Of Leader Distracts From Real Problems
Authorities Cast Wide Net In Conspiracy Allegations
Embattled Turkmen Writer Honored Abroad
RFE/RL Correspondent Recounts Arrest
ARCHIVE
RFE/RL coverage of Turkmenistan.


THE COMPLETE STORY: Click on the icon to view a dedicated webpage bringing together all of RFE/RL's coverage of Kazakhstan, Kyrgyzstan, Tajikistan, Turkmenistan, and Uzbekistan.