Government officials have declined to publicly give details about the process, but Justice Minister Hashim al-Shibli was quoted as indicating that Hussein's death sentence for crimes against humanity is expected to be implemented within the 30-day time frame ordered by court officials.
The death sentence was upheld by an Iraqi appeals court on December 26.
In a letter written from prison and made public on December 27, Hussein said he sees himself ready to die as a "sacrifice" for Iraq.
Loyalists of Hussein's Ba'ath Party have warned against the execution of their leader, threatening to retaliate against the United States and its interests. A statement posted on the Internet said it would be impossible for the party to participate in any negotiations with U.S. and Iraqi officials to reduce the violence in Iraq if Hussein is put to death.
Meanwhile, Cardinal Renato Martino, head of the Vatican's Justice and Peace department, says he hopes Hussein will be spared execution, citing the Catholic Church's opposition to the death penalty. Martino said he believes there is still time to grant Hussein clemency.
Hussein was convicted in the deaths of over 148 Shi'a from the town of Al-Dujayl following an assassination attempt against him in 1982.
(compiled from agency reports)
The Tragedy At Al-Dujayl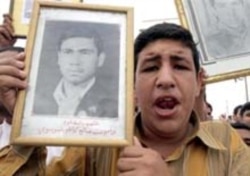 A protester in Baghdad carries a picture of a relative killed at Al-Dujayl (AFP file photo)


READ
Former Iraqi dictator
SADDAM HUSSEIN
and seven of his associates went on trial on October 19, 2005, on charges of crimes against humanity for the regime's role in the deaths of 148 residents from the town of Al-Dujayl, and the imprisonment of 1,500 others following a botched assassination attempt against Hussein there on July 8, 1982. Following the arrests and deportations, the regime leveled the town...
(more)
See also:
Al-Dujayl Native Tells Her Story
Al-Dujayl Survivor Says 'We Want The Deserved Punishment For The Guilty