Berdymukhammedov is a favorite among six presidential aspirants to win the direct election set for February 11.
The late president, Niyazov, tolerated no dissent and went to great lengths to insulate the country's 5 million people from foreign or unsanctioned views.
Turkmenistan's sizable natural-gas reserves and export potential make the future course of that former Soviet republic the object of much international speculation.

Berdymukhammedov made his Internet pledge to potential voters one day after official campaigning began to replace Niyazov on January 2.
"We will create the right conditions for developing the transportation and communications network," Berdymukhammedov said, according to RFE/RL's Turkmen Service. "I will pay a great deal of attention to this sphere. The latest technology, [like] the Internet, should be available to every person in the country."
He has also vowed to reverse his predecessor's school reform, which reduced 10 years of studies to nine.
Berdymukhammedov also vowed to review the cases of those who had their pensions cut off in 2006, and said the state would continue to make bread, gasoline, and other staples available at low prices.
The presidential vote -- and considerable uncertainty over the future course of policies from Ashgabat -- follows Niyazov's death of cardiac arrest on December 21.

(with additional reporting by ITAR-TASS, Reuters, AFP)

Saparmurat Niyazov, 1940-2006
Saparmurat Niyazov, 1940-2006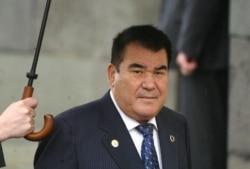 Turkment President Saparmurat Niyazov (bymedia.net)

ERA OF UNCERTAINTY. The death of Turkmen President Saparmurat Niyazov ends an era and begins a period of great uncertainty in Turkmenistan....(more)
RELATED ARTICLES
Could Niyazov's Death Lead To Political Struggle, Instability?
President's Death Brings Muted World Reaction
Energy Analyst Discusses Impact Of Niyazov's Death
Niyazov's Death Prompts Integration Hopes, Gas Worries In Russia
ARCHIVE
RFE/RL's coverage of
Turkmenistan
.