Al-Maliki told a parade today to mark Army Day in Iraq that "the security plan is ready" and stressed that the effort will target insurgents from all sectarian groups.
AP called the campaign the first step in a new strategy by U.S. President George W. Bush to contain Sunni fighters and Shi'ite death squads.
But al-Maliki highlighted the Iraqi nature of the operation, saying his government "will depend on our armed forces to implement this plan and the multinational force will support our forces...whenever they are call on."
He said military commanders in neighborhoods of the capital will have broad discretion for how to proceed.
Al-Maliki said the plan will continue until its objectives are achieved, and he said he "reject[s] any interference from any political parties" in its conduct.
"We will come down hard on anyone who does not carry out their orders and who does their job according to his political or sectarian background," Reuters quoted him as saying. We will pursue those people under the law and punish them most severely."
Al-Maliki's grip on the government's security apparatus has come under increased scrutiny since scenes of Shi'ite jeering emerged from the December 30 execution of former leader Saddam Hussein, whose minority Sunnis dominated during his rule.
Meanwhile, Saudi Arabian Crown Prince Sultan bin Abd al-Aziz has called on Washington to review the aims of its troops in Iraq. In a presumed reference to Iran's perceived support for Iraq's majority Shi'ite community, the crown prince of the Sunni-dominated kingdom also urged "some neighboring countries" to stop meddling in Iraqi affairs.
Al-Aziz was speaking in an interview published today by the London-based newspaper "Aharq al-Awsat."
White House Announces Command Changes
U.S. President George W. Bush has announced changes to the military leadership in Iraq.
General George Casey, America's top commander in Iraq, is to be replaced by Lieutenant General David Petraeus.
Admiral William Fallon is due to replace General John Abizaid as the head of U.S. Central Command, in charge of military operations not only in Iraq but Afghanistan as well.
The nominations still require Senate approval.
Attack On Police Convoy Kills Bystander
A car bomb that detonated near the convoy of a high-ranking police officer in Baghdad today killed one civilian and wounded six others.
The police official, Ali al-Yassiri, was not hurt in the explosion, which occurred in a parked car in a central commercial district of the Iraqi capital.
On The Verge Of Civil War
On The Verge Of Civil War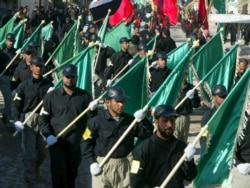 The Imam Al-Mahdi Army on parade (epa)
HAS THE CONFLICT IN IRAQ BECOME A CIVIL WAR? Many observers have concluded that the tit-for-tat sectarian violence that emerged after the February 2006 bombing of a mosque in Samarra has become a full-blown civil war.... (more)


RELATED ARTICLES
U.S. Media Starts Using 'Civil War' Label
Iraqi Prime Minister Under Fire From All Sides
U.S. Expert Discusses Prospects For Stabilization
President Says Iraq Needs Iran's Help
Saudi Arabia To Seal Off Border With Security Fence

THE COMPLETE PICTURE:
Click on the image to view RFE/RL's complete coverage of events in Iraq and that country's ongoing transition.