UN Chief Urges Iraq To Refrain From Executions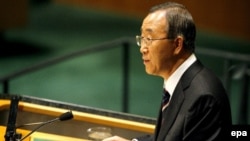 Ban Ki-moon (file photo) (epa) January 7, 2007 -- UN Secretary-General Ban Ki-moon has called on Iraq to refrain from carrying out any further executions.
Following the execution of Saddam Hussein, Ban said capital punishment was up to individual countries.
That statement triggered criticism from human rights group. Two Iraqi officials who served under Hussein -- including his half-brother -- have been sentenced to death, although no dates have been set.
(Reuters)
Saddam Hussein: Looking Back

A DICTATOR'S LIFE:
A photo gallery of images from the life of former Iraqi President Saddam Hussein.
MORE: A timeline of the life of Saddam Hussein.