Scores Killed In Iraq Fighting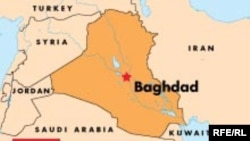 (RFE/RL) January 7, 2007 -- Scores of people have been killed in fresh violence in Iraq, while hundreds of Sunni Arabs continued to protest the execution of former President Saddam Hussein.
The Iraqi military reportedly killed 30 militants in a gun battle in Baghdad today. In separate incidents, six Iraqis were killed in Baghdad, and two others in the town of Hilla.
Meanwhile, hundreds of Sunni Arabs protested the execution of Hussein outside a Shi'ite shrine in northern Iraq. They marched through the streets of Samarra, where they gathered outside the Al-Askari mosque.
Hussein's execution on December 30 has triggered protests among Sunnis and criticism from international leaders for the way it was conducted.
(compiled from agency reports)
Saddam Hussein: Looking Back

A DICTATOR'S LIFE:
A photo gallery of images from the life of former Iraqi President Saddam Hussein.
MORE: A timeline of the life of Saddam Hussein.