Rights Group Criticizes Iraq Over Executions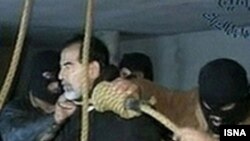 The execution of Saddam Hussein on December 30 (ISNA) January 8, 2007 -- Human Rights Watch says Iraqi Prime Minister Nuri al-Maliki's defense of Saddam Hussein's December 30 execution and plans to execute two former Hussein-era officials show the government's "disregard for human rights and the rule of law."
Richard Dicker, director of Human Rights Watch's International Justice Program, said in a statement on January 7 that executing the two men "will only drag a deeply flawed process into even greater disrepute."
Human Rights Watch called on the Iraqi government to halt the upcoming executions of Hussein's half brother and former intelligence chief, Barzan Ibrahim al-Tikriti, and the former head of Iraq's Revolutionary Court, Awad Hamed al-Bandar.
(AP)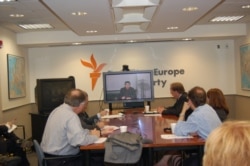 BEYOND THE HEADLINES. RFE/RL regularly hosts briefings and discussions with leading experts on our broadcast region. In 2006, some of the crucials topics were gas wars, elections in Belarus and Ukraine, Iran's nuclear program, and unrest in Central Asia....(more)
SUBSCRIBE
To receive RFE/RL briefing invitations and reports by electronic mail, send a message to
dc-response@rferl.org
with "Subscribe" in the subject line.