Supreme Council for the Islamic Revolution in Iraq (SCIRI) leader Abd al-Aziz al-Hakim also urged authorities to expedite the execution of two former Hussein-era officials who were sentenced to death together with Hussein in November.
Former chief judge Awad al-Bandar and Hussein's half-brother, former intelligence chief Barzan Ibrahim al-Tikriti, have been convicted of crimes against humanity in the killings of 148 Shi'a in the 1980s.
Al-Hakim also said his community was the victim of "sectarian genocide" under Hussein.

(Reuters, AP, dpa)
Sectarian Iraq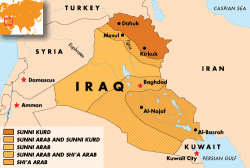 Click to enlarge the image.
SUNNI, SHI'A: Iraq is riven along sectarian lines, faults that frequently produce violent clashes and are a constant source of tension. Sectarian concerns drive much of Iraqi politics and are the main threat to the country's fragile security environment.


THE COMPLETE PICTURE: Click on the image to view RFE/RL's complete coverage of events in Iraq and that country's ongoing transition.