PACE's press service said he is scheduled to meet Foreign Minister Sergei Lavrov, parliamentary leaders, and NGO representatives.
Discussions were expected to focus on the need for Russia to ratify a protocol on the activities of the European Court of Human Rights, Russia being the only Council of Europe member not to have done so.
Among issues expected to be discussed were also Russia's relations with Georgia and Belarus.
RFE/RL Briefings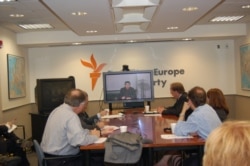 BEYOND THE HEADLINES. RFE/RL regularly hosts briefings and discussions with leading experts on our broadcast region. In 2006, some of the crucials topics were gas wars, elections in Belarus and Ukraine, Iran's nuclear program, and unrest in Central Asia....(more)
SUBSCRIBE
To receive RFE/RL briefing invitations and reports by electronic mail, send a message to
dc-response@rferl.org
with "Subscribe" in the subject line.