Rene van der Linden told a Moscow conference on democracy building that he would use his stay in Moscow and all meetings to put his authority behind that demand.
Van der Linden has meetings scheduled with Russian Foreign Minister Sergei Lavrov and Boris Gryzlov, speaker of the State Duma, the lower house of Russia's parliament.
The two-day meeting will focus on the role of political parties in democracy-building.
Politkovskaya, a fierce critic of the Kremlin, was killed on October 7 as she returned to her apartment in central Moscow from a trip to the supermarket. No one has been detained.
(Reuters)
Remembering Anna Politkovskaya
Remembering Anna Politkovskaya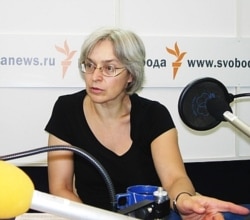 Anna Politkovskaya at RFE/RL in July 2006 (RFE/RL)
A BRAVE VOICE SILENCED. Prominent Russian journalist Anna Politkovskaya was killed on October 7 in her Moscow apartment building. An outspoken critic of the Kremlin, she was best-known for her reporting on the conflict in Chechnya. Former Soviet President Gorbachev called her slaying "a true political homicide, a vendetta."
Chechens Mourn Politkovskaya As 'Last Hope'
Politkovskaya Investigating Chechen Torture At Time Of Death
Two Journalists Die In Contract Killings A Year
SUBSCRIBE
For regular news and analysis on media issues throughout RFE/RL's broadcast area by e-mail,
subscribe to "RFE/RL Media Matters."