The announcement was made by Russian Economic Development and Trade Minister German Gref.
President Vladimir Putin has ordered officials to consider a possible reduction in Russian oil output to handle a decline in crude exports due to the dispute with Belarus.
German Chancellor Angela Merkel has warned that the interruption of Russian supplies westward "destroys trust," and said she will raise the issue when she meets with Putin on January 21.

Belarus continues to blame the problem on Russia, saying Moscow is making unreasonable demands. Belarus imposed its transit fee after Russia added duties on oil exports to Belarus.
The halt of Russian shipments is reported to have affected supplies in countries including Ukraine and EU members Poland, Hungary, Slovakia, the Czech Republic, and Germany.
(compiled from agency reports)
Prague Energy Forum, October 23-24
Prague Energy Forum, October 23-24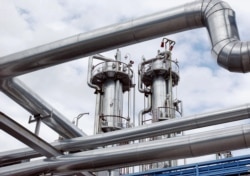 An oil refinery in Western Siberia (TASS)

STABILITY AND SECURITY: On October 23-24, RFE/RL and the Warsaw-based Economic forum cosponsored the Prague Energy Forum at RFE/RL's Prague broadcasting center. The Energy Forum brought together nearly 100 experts and policymakers from Europe, Central Asia, and the Middle East to discuss key issues of energy supply and security in the years to come.
HIGHLIGHTS: RFE/RL presents some of the key presentations from the Energy Forum and interviews with some participants:
Czech Premier Urges Reduced Energy Dependence On Russia
Interview: Nature A Bigger Threat To Security Than Terrorism
Russia Can Boost Security Through Transparency
Interview: Russian Expert Addresses Europe's Security Concerns
U.S. Official Outlines Concerns About Iran's Nuclear Program
Iranian, Western Experts Spar Over Tehran's Nuclear Ambitions
Experts Ponder Future 'Gas Wars'
Former U.S. Ambassador Says Kyiv Can Cope With Gas Price Rise
Interview: Tbilisi Bent On Energy Independence


MORE: Click on the image to see the conference program, participant list, and other materials.