Iraqi President Calls For Delay On Executions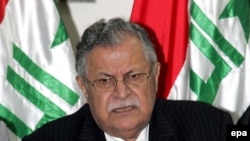 Jalal Talabani (file photo) (epa) January 10, 2007 -- Iraqi President Jalal Talabani today said the government should delay the executions of two former officials who were convicted of crimes against humanity alongside former Iraqi President Saddam Hussein.
Talabani did not say when former Revolutionary Court Judge Awad al-Bandar and Hussein's half-brother, former security chief Barzan Ibrahim al-Tikriti, are expected to be hanged, but he called on authorities to "examine the situation."
Talabani has long opposed the death penalty in principle.
The conditions of Hussein's execution on December 30 have sparked international anger and exacerbated sectarian tensions.
(AFP, AP)
Saddam Hussein: Looking Back

A DICTATOR'S LIFE:
A photo gallery of images from the life of former Iraqi President Saddam Hussein.
MORE: A timeline of the life of Saddam Hussein.