The IRNA news agency said that Iranian Foreign Minister Manuchehr Mottaki told his Iraqi counterpart Hoshyar Zebari in a telephone conversation, that the United States' "illegal and adventurist acts should stop in Iraq."
Six Iranians were arrested in a night-time swoop by U.S. forces on an office in the northern Iraq city of Irbil on January 11, one of whom has since been released.
Mottaki also demanded that Iraqi authorities "seriously seek to release the Iranian consulate members in Irbil."
The United States has said the men had links to Iran's elite Revolutionary Guards and none of them held diplomatic passports. Iran however insists the men were diplomats.
Bush Authorization
In an interview ahead of her Middle East trip, U.S. Secretary of State Condoleezza Rice told "The New York Times" that U.S. President George W. Bush has decided to go after Iranian networks in Iraq.
The newspaper quoted Rice as saying a recent series of U.S. raids against Iranians in Iraq was carried out under an order from Bush that authorized a broad military offensive against Iranian operatives in Iraq.
Rice referred to what U.S. officials say is evidence that many sophisticated roadside bombs being used against American forces in Iraq were made in Iran.
Rising Tensions
Amid rising tensions between the United States and Iran, White House spokesman Tony Snow stepped in on January 12 to deny speculation that Washington plans a military attack against either Iran or its ally Syria.
"I want to address kind of a rumor, an urban legend that's going around -- and it comes from language in the president's Wednesday night [January 10] address to the nation, that in talking about Iran and Syria, that he was trying to prepare the way for war with either country and that there are war preparations under way. There are not," Snow said.
In his speech on January 10, Bush vowed U.S. forces would "seek out and destroy" any networks bringing weapons or fighters from Syria or Iran into Iraq, and said he had ordered a second U.S. aircraft carrier strike group to the Persian Gulf region. Bush also said the United States would deploy Patriot missile-defense systems to "reassure" friends and allies in the region.
Mid East Tour
Iran and Iraq will be at the top of Rice's agenda during her Middle East tour.
The State Department says Rice will hold talks in Israel and the Palestinian territories before traveling to Egypt, Jordan, Saudi Arabia, and Kuwait. She will conclude her tour in Berlin and London before returning to Washington on January 19.
(with material from news agencies)
Iraq And Iran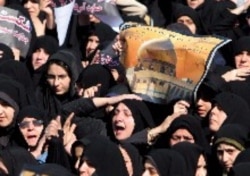 Iranian Shi'a protesting the Golden Mosque Bombing in Iraq on February 24


WHAT IS GOING ON? On March 8, RFE/RL's Washington office hosted a roundtable discussion on relations between Iraq and Iran. Although most analysts agree that Iran has been actively involved in Iraq since the U.S.-led military operation to oust former Iraqi President Saddam Hussein, they continue to debate the nature, extent, and intent of that involvement.
The RFE/RL briefing featured WAYNE WHITE, former deputy director of the U.S. State Department Bureau of Intelligence and Research's Office of Analysis for the Near East and South Asia, and A. WILLIAM SAMII, RFE/RL's regional analyst for Iran and editor of the "RFE/RL Iran Report."
LISTEN
Listen to the complete RFE/RL briefing (about 75 minutes):

Real Audio
Windows Media
RELATED ARTICLES
Iran/Iraq: Bilateral Ties Improving Despite U.S. Worries
Renewed Speculation About Tehran And Instability In Iraq
Iran/Iraq: Neighbors Mending Ties, But Outstanding Issues Remain
ARCHIVE
RFE/RL's
coverage of Iran
. RFE/RL's
coverage of Iraq
.