Van der Linden is expected to meet government officials and parliamentary leaders as well as opposition leaders and NGO representatives.
He said he hoped his visit will convince Belarus that "dialogue is better than isolation." He also said he wanted to encourage Belarus to "move closer to the Council of Europe."
"The Council of Europe and the Parliamentary Assembly [are] able to build bridges, even if the bridges are quite small in the beginning," van der Linden told RFE/RL on January 17. "And that's our role. And I see the role of the Council of Europe in this way, and that's the reason I [am going] to Belarus."
Belarus is the only European country outside the 46-member Council of Europe, the top pan-European human rights organization.
It is heavily criticized in the West for restrictions on free elections and the free media. President Alyaksandr Lukashenka and his top associates have faced a visa ban in the European Union following a March 2006 presidential election that the West says was undemocratic.
(naviny.by, Interfax)
Russia And Belarus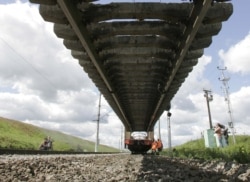 The main Moscow-Minsk railway line(Tass)

TO MERGE OR NOT TO MERGE: For over a decade, Moscow and Minsk have been working on a project to form a single state, the Russia-Belarus Union. However, every time the two countries seem on the verge of making progress, one or the other steps back, leaving the entire effort in doubt.
RELATED ARTICLES
Putin, Lukashenka Press Ahead With Unification
Has Putin Promised Lukashenka Fair Weather?
Tensions Remain In Putin-Lukashenka Talks
ARCHIVE
RFE/RL's
coverage of Belarus
. RFE/RL's
coverage of Russia
.