An official Kazinform news report posted on the government's website says Masimov expressed his frustration at the way some oil contracts are being implemented.
Among other sticking points, he mentioned irregular extensions of exploration deals, early exploitation of hydrocarbon fields, and overspending.
It was not immediately clear which oil companies prompted Masimov's statements.
Kazakhstan has signed contracts worth billions of dollars with Western oil firms since the early 1990s.
Masimov today said that Kazakhstan's energy policy will remain unchanged under his tenure, which began on January 10.
Kazakh authorities threatened in 2006 to revoke the license of the partially U.S.-owned Tengizchevroil joint venture unless it complies with environmental legislation.
Masimov is a former bank executive and economic adviser to President Nursultan Nazarbaev.
His predecessor as prime minister, now Defense Minister Daniyal Akhmetov, was criticized by Nazarbaev over his spending record and his alleged failure to curb corruption.
China In Central Asia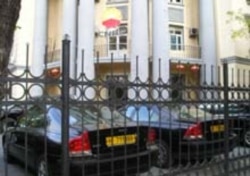 The Almaty,Kazakhstan, office of China's National Petroleum Corporation (RFE/RL)
BEIJING ON THE RISE:
The September 11, 2001, terrorist attacks against the United States prompted Washington to topple the Taliban regime in Afghanistan. At the time, many predicted the United States would gain a new foothold in Central Asia: new U.S. military bases appeared in Kyrgyzstan and Uzbekistan, U.S. foreign aid increased, and much U.S. attention was lavished on the region. Russia and China looked on warily. But the pendulum may be swinging back in Moscow's and Beijing's favor. China, especially, has expended great effort at winning friends in Central Asia and is becoming a force to be reckoned with
....(more)
RELATED ARTICLES
Turkmenistan-China Pipeline Project Has Far-Reaching Implications
Central Asia Looks To Fuel Asia's Economic Boom
The Geopolitical Game In Central Asia
ARCHIVE
To view an archive of RFE/RL's coverage of China, click here.

SUBSCRIBE
For weekly news and analysis on all five Central Asian countries by e-mail, subscribe to "RFE/RL Central Asia Report."