Merkel made clear the European Union was disappointed by Russia's failure to warn Europe its recent price dispute with Belarus might lead to an energy supply cutoff.
"We would like to have reliable relations, at least as far as our energy supplies are concerned," Merkel said at a joint press conference following talks in the Black Sea resort town of Sochi. "And that is why I think we should have a better exchange of views in the future over difficulties that may arise."
Moscow and Brussels, she said, should take the long view when considering their relationship.
"I believe that when you look at a long time frame of 10-15 years, everybody realizes that it is a strategic interdependency from which, in a good sense, both the European Union and Russia can profit," she said.
"We are not very far apart. We need each other, and that is why I think it is important to avoid the irritation that arose at the beginning of this year and last year."
Transit Countries Blamed
Putin, for his part, gave assurances that Russia will remain a reliable oil and gas supplier and vowed to speed up the construction of pipelines to deliver energy supplies to Europe.
The Russian leader also said Moscow wants to establish with its partners clear rules on energy exports.
But at the same time, he clearly placed the blame for recent supply crises on countries like Ukraine and Belarus, whose territory Russian energy must cross over on its way to Europe.
"We want to cooperate with the transit countries, but I would like to stress one more time that the relations should be based on clear and common principles for everybody -- for everybody, without any political or other opportunism," Putin said. "That is why we are telling everybody 'yes' to cooperation and partnership and 'no' to parasitism."
Avoiding Future Problems
Merkel took an upbeat approach in comments made after the meeting, indicating that the differences between the EU and Russia as the two sides hammer out a partnership agreement are surmountable.
"I think we had a very good talk, and I think also that a partnership agreement -- at least from the side of the European Union -- could contain passages where we could firmly agree on the mechanism whereby we would inform each other in order to avoid irritation, misunderstandings, and disappointments," she said.
Overcoming those disappointments is key to finding an avenue to the singing of a new cooperation treaty. Poland has invoked its veto to block negotiations on a new agreement until Moscow proves its dependability as an energy supplier and lifts its ban on Polish meat imports.
On that issue, Putin was noncommittal, saying only: "Let's agree -- we aren't against agreeing."
However, Putin and Merkel did find a "common position" on Iran's nuclear program, with the Russian leader saying after the talks that the issues should be worked out only by political and diplomatic means.
Putin also said a solution on the final status of Serbia's Kosovo province must be acceptable to both Serbia and Kosovo.
(compiled from agency reports)
How Much Do The Neighbors Pay?
How Much Do The Neighbors Pay?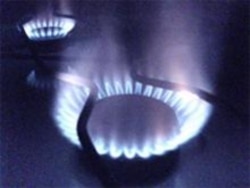 SETTING THE RATES: With Gazprom negotiating new contracts, many states will be paying more for Russian natural gas in 2007.
Belarus, following tense negotiations with Gazprom, will pay $100 per 1,000 cubic meters in -- up from $47 in 2006. Ukraine, which depends on Russia to supply it with about 77 percent of its gas, will pay $130 per 1,000 cubic meters of a Turkmen-Russian gas mix. Moldova, which depends on Russia for 100 percent of its gas, will pay $170 per 1,000 cubic meters, with the price rising to European-level market price by 2011. Georgia has agreed to pay Gazprom $235 per 1,000 cubic meters of gas.
ARCHIVE
A
complete archive
of RFE/RL's coverage of energy issues in the Caspian Sea region and Russia.