They point out that Russia's forthcoming entry to the World Trade Organization (WTO) requires the Kremlin to raise domestic prices to world market levels by 2011. This is impossible to do without first raising energy-export prices, which is precisely what Russia has been doing -- increasing gas and oil prices for its CIS neighbors.

However, another group of domestic analysts, many of them nationalist, interpret rising energy-export prices -- at least for a customer such as Belarus -- differently. They accuse "Western agents" within the government of Prime Minister Mikhail Fradkov of undermining the Russia-Belarus Union state agreement signed in 1997. One such critic, Mikhail Remezov, president of the Moscow-based National Strategy Institute, wrote on km.ru on 12 January that "the energy conflict makes the building of a Russia-Belarus Union state both impossible and meaningless."

An Alternative Future

One of the most provocative analyses of the Russian-Belarusian relationship has been put forth by Sergei Pereslegin, a specialist on alternative-future analysis who heads the St. Petersburg-based research center Modeling the Future. Pereslegin, who is reputed to have earned Putin's attention and respect, argues that the Kremlin has in fact revised its entire strategy toward Belarus.
Kremlin policymakers may eventually decide that political gains will offset the economic costs of absorbing Belarus.
Much of Pereslegin's argument can be found in his book "A Do-It-Yourself Guide To Playing On The World Chessboard," published in 2006. The book was intended as a Russian response to Zbigniew Brzezinski's "The Grand Chessboard" of 1997.


According to Pereslegin, the Kremlin has refused to fully incorporate Belarus into the Russian Federation -- not because this is not its ultimate goal. Rather, the Kremlin is merely biding its time. Kremlin policymakers believe that Belarusian President Alyaksandr Lukashenka's policies are bringing the country to a political and economic dead end. Russia only has to wait for "the fruit to ripen and fall into its hands."
Belarus is completely economically and politically dependent on Russia, according to Pereslegin. The Belarusian economy cannot exist independently of Russia's raw materials, which provide energy for Belarus's own industrial production. And Russia provides the only market for these finished products.
Moreover, cheap Russian oil helps Lukashenka's internationally isolated regime maintain its political stability. Belarus imports and refines annually about 17 million tons of Russian oil, but consumes only 4 million tons. The rest Minsk sells to the West at market prices. The revenues from these sales underwrite Belarus's generous social-welfare programs. In this way, not only Belarus's economic but also its social order depends on Russia.
Pereslegin also notes that Lukashenka's regime has no "national project" like that of neighboring Ukraine, which has been building its own independent state for more than a decade.
Belarus's leadership, on the other hand, has relied on tactics without a strategy or a strategic objective, such as an independent state. Lukashenka has backed himself into a tight corner: He has no other option than to push for the quickest union with Russia conditional on the preservation of his own status as president of an "independent Belarus."
"For the Kremlin it is clear that Belarus eventually cannot avoid joining Russia and the only agenda to discuss is the details of the integration," Pereslegin writes. Pereslegin suggests the Kremlin has in mind only one scenario: full reintegration through the incorporation of all six of Belarus's administrative areas plus Minsk as new oblasts of the Russian Federation.
Kremlin policymakers believe that Lukashenka's policies are bringing the country to a political and economic dead end.
Under this arrangement, Belarus would not even have the same status as the republics of Tatarstan or Bashkortostan. According to Pereslegin, Putin bluntly made this offer to Lukashenka in 2004, who angrily rejected it. "One can understand [Lukashenka's] position, since it would not only mean the inglorious end of the 'Republic of Belarus' but harshly upend the position of the Belarusian elite, including that of Lukashenka himself, " Pereslegin comments.

But Putin is remaining firm, unmoved by Lukashenka's growing discomfort. According to Pereslegin, Putin knows Belarus has no choice. In fact, Russia will win more concessions the longer it delays the "acquisition" of Belarus. The more time that passes, the more "profitable" the Union Treaty will be for Russia, whose businesses will be able to come in and replace the owners of Belarusian assets.

Biding Its Time

At the present time, Russia would pay too high a price to absorb the unreformed, paternalistic economy of Belarus, according to Pereslegin. The Russian economy is more open and market oriented than the Belarusian economy, which responds to the decrees of Lukashenka rather than market forces.

Another problem is that the 10 million-strong Belarusian population has an average annual income lower than that of Russia. Well educated and technically proficient Belarusian workers earn lower wages than their Russian counterparts. They are now employed mostly in the machine-building sector, whose products are exported to eager Russian industrial enterprises.


Full integration could trigger a massive influx of migrants from Belarus to Russia, which could trigger both social tension and a reduction of Belarusian industrial exports to Russia because of labor shortages.
However, Kremlin policymakers may eventually decide that political gains will offset the economic costs of absorbing Belarus. The Putin government could score a big political success by retaking "lost Russian lands." What's more, Russia-Belarus integration could "create momentum for further integration and political pressure on Ukraine and Baltic states," Pereslegin suggests.
Pereslegin notes that timing is the critical issue. The conditions have to be right. First and foremost, the resources of the United States and European Union must not be allied against the project. Second, Russia would need to quickly generate additional economic growth from the absorption of Belarus to offset the costs of the incorporation of new territories. These criteria relate not only to Belarus but also to any further efforts to reintegrate former Soviet states.
These conditions, in Pereslegin's view, do not yet exist, but they are achievable in the medium-term. In the meantime, it will be expedient for Russia to delay formation of the union state, leaving Lukashenka dangling as if over a precipice.
Russia And Belarus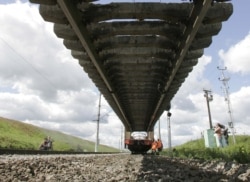 The main Moscow-Minsk railway line(Tass)

TO MERGE OR NOT TO MERGE: For over a decade, Moscow and Minsk have been working on a project to form a single state, the Russia-Belarus Union. However, every time the two countries seem on the verge of making progress, one or the other steps back, leaving the entire effort in doubt.
RELATED ARTICLES
Putin, Lukashenka Press Ahead With Unification
Has Putin Promised Lukashenka Fair Weather?
Tensions Remain In Putin-Lukashenka Talks
ARCHIVE
RFE/RL's
coverage of Belarus
. RFE/RL's
coverage of Russia
.