The Russian president used an interview with Indian media, and a press conference with Italian Prime Minister Romano Prodi, to hit back at Western critics who he says are trying to put Russia in its place.
In the interview -- broadcast on January 23 in India ahead of Putin's scheduled trip there -- the Russian president dismissed those who he said were accusing Russia of trying to regain its former "superpower" status.
He said the use of such Cold War terminology is an attempt to "undermine trust in Russia" and "create some sort of enemy."
On The Rise
The same day, at a news conference after talks on economic cooperation with Prodi in the Black Sea resort of Sochi, Putin answered critics who say he has slashed democratic freedoms and used his country's abundant energy resources as a political sledgehammer.
Putin may have dismissed the term "superpower," but he did say Russia's influence is on the rise. He warned skeptics not to underestimate the country's pivotal role in the world or ignore its interests.
"In these conditions, Russia's economic, military, and political abilities are clearly growing, and a competitor that was nearly written off is emerging in the world -- even if this movement is not yet so noticeable at first sight," Putin said.
"This seems to me the main reason [for criticism] -- the unwillingness to consider Russia's legitimate interests and the wish to put her in a place someone else has chosen for her," he added.
Not A One-Power World
Without mentioning the United States by name, Putin suggested that in the years since the Cold War ended, a false impression has developed that the world revolves around U.S. interests and influence.
The word "Iraq" never crossed his lips, but his reference to the "growing number of crises" spawned by this false sense of U.S.-centrism was unmistakable.
"Since the collapse of the bipolar world and the two confronting systems, an illusion has arisen among some people that the world had became monopolar and that all the world problems could be quite easily resolved from one center," Putin said.
"It turned out that this was not the case. Such approaches have led to a growing number of crises, while the means to resolve them have become more limited."
U.S. Speech
As Putin was speaking to reporters in Sochi, his U.S. counterpart George W. Bush was polishing his annual State of the Union address to Congress.
Bush's speech, which was shown on U.S. national television that evening, included several new domestic policy initiatives and a plea to the new opposition-controlled Congress to agree to his plan to send more than 20,000 additional troops to Iraq.
Bush mentioned Russia only twice: as a U.S. partner working for a nuclear-free Korean Peninsula, and a fellow member of the "quartet" seeking a peaceful settlement between Israel and Palestinians.
Putin's rejoinder to his Western detractors came just a few hours after Russia's Supreme Court upheld the forced closure of a human rights nongovernmental organization that has criticized Russian for perpetrating alleged human rights abuses in Chechnya.
The Russian-Chechen Friendship group has published several reports alleging that Russian forces and their Chechen allies are guilty of torture, kidnappings, and the murder of civilians. A regional court ordered the group's closure in October 2006.
Amnesty International criticized the January 23 ruling as a "double blow" to freedom of expression and civil society.
(with agency reports)
Democracy In Russia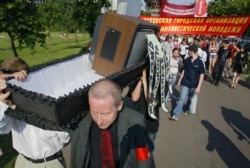 Demonstrators in Moscow carry a coffin with a television in it to protest government control over broadcasting (TASS file photo)


DO RUSSIANS LIKE THEIR GOVERNMENT? During a briefing at RFE/RL's Washington office on November 15, Richard Rose, director of the Center for the Study of Public Policy at the University of Aberdeen, discussed the results of 14 surveys he has conducted since 1992 on Russian public opinion about democracy and the country's development. He discussed the implications of these opinions for relations with the West and for Russia's 2008 presidential election.
LISTEN
Listen to the complete discussion (about 42 minutes):

Real Audio
Windows Media
RELATED ARTICLES
U.S. Election Expected To Chill Relations With Moscow
Are Mayors Next 'Power Vertical' Victim?
Monarchist Nostalgia Remains Powerful
Russian Election Commission Rejects Third-Term Appeal
Romanov Burial May Be Part Of Kremlin Image Campaign
ARCHIVE
All of RFE/RL's English-language coverage of
Russia
.


UPDATED CONSTANTLY: Visit RFE/RL's Russian-language website, featuring news, analysis, features, streaming audio, and more, in Russian, from RFE/RL's Russian Service.