Air Force Lieutenant General Henry Obering, director of the U.S. Missile Defense Agency, said the United States wants to establish up to 10 ground-based missile interceptors in Poland and an advanced radar station in the Czech Republic.
Poland and the Czech Republic have agreed to start discussions with the U.S. on hosting the facilities.
Obering acknowledged there is currently no long-range Iranian missile threat, but he said the United States wants to "stay ahead" of where officials think a threat might develop.
Obering rejected recent Russian suggestions that the U.S. plan could upset the regional security balance, saying there is no way the planned U.S. missile-defense system could neutralize the large Russian arsenal.
Washington and some Western allies have accused Iran of seeking to develop nuclear weapons -- a charge that Tehran has consistently denied -- and the UN Security Council imposed sanctions on Iran in December in an attempt to curb that country's nuclear activities.
Report Of Imminent Iran Satellite Launch
The U.S. magazine "Aviation Week & Space Technology" is reporting that Iran may be preparing to launch a satellite into space.
The magazine, citing unnamed U.S. agencies, said in a report on its website that Iranian technicians are believed to have converted a 30-ton Shahab-3 ballistic missile into a satellite launch vehicle.
The report quoted Alaeddin Boroujerdi, chairman of the Iranian parliament's National Security and Foreign Policy Commission, as telling clerics and students in Qom that a satellite launch would occur "soon."
No other corroboration was available.
(compiled from agency reports)
Talking Technical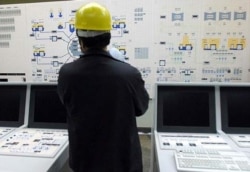 A control panel at the Bushehr nuclear power plant (Fars)

CASCADES AND CENTRIFUGES: Experts and pundits alike continue to debate the goals and status of Iran's nuclear program. It remains unclear whether the program is, as Tehran insists, a purely peaceful enegy project or, as the United States claims, part of an effort to acquire nuclear weapons.
On June 7, 2006, RFE/RL correspondent Charles Recknagel spoke with nuclear expert Shannon Kile of the Stockholm International Peace Research Institute in Sweden to help sort through some of the technical issues involved. "[Natanz] will be quite a large plant," Kile said. "There will be about 50,000 centrifuges and how much enriched uranium that can produce [is] hard to say because the efficiency of the centrifuges is not really known yet. But it would clearly be enough to be able to produce enough [highly-enriched uranium] for a nuclear weapon in fairly short order, if that's the route that they chose to go...." (more)
RELATED ARTICLES
Tehran Says It Is Working On Advanced Nuclear Fusion
Would Light-Water Reactor Suit Tehran's Needs?
Satellite Images Raise Questions About Iran's Nuclear Program
Centrifuges And Political Spin?
How Close Is Iran To Getting Nuclear Bomb?
Iran: The Worst-Case Scenarios

THE COMPLETE STORY: RFE/RL's complete coverage of controversy surrounding Iran's nuclear program.