U.S. Says Antimissile Shield Not Aimed At Russia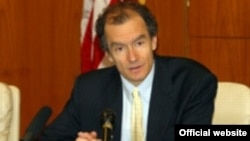 Daniel Fried (file photo) (official site) January 22, 2006 -- A senior U.S. diplomat says the placing of a U.S. antimissile system on Polish and Czech soil would strengthen Europe's defenses against a rogue nuclear attack.
The Polish daily "Rzeczpospolita" today quotes U.S. Assistant Secretary of State Daniel Fried as saying that Russia, which had been critical of the project in the past, had nothing to fear.
Fried confirmed reports that Washington had made a specific offer to Warsaw and Prague last week to start detailed negotiations, which he said could last for months.
(Reuters)