Borujerdi said he hopes the January 26 report, which follows other recent warnings from Washington, is erroneous, "as such an order is a clear terrorist act and against all internationally acknowledged norms."
The warning comes as tensions rise between Washington and Tehran, with the United States accusing Iran of covertly trying to develop nuclear weapons and of meddling to foment violence in Iraq.
Bush has authorized U.S. forces in Iraq to take whatever actions are necessary to counter what U.S. agents allege are Iranian agents that threaten the safety of U.S. troops or the public.
Bush said any operations against Iranians would be conducted only inside Iraq.
U.S. Defense Secretary Robert Gates has warned that "if you're in Iraq and trying to kill our troops, then you should consider yourself a target."
Iranian officials have demanded that U.S. forces release several Iranians who were detained in a raid on an Iranian liaison office in the Iraqi city of Irbil on January 11. U.S. authorities accuse them of providing weapons or arms to insurgents and militias in Iraq.
Arab League Secretary-General Amr Musa today warned that military action against Iran "would bring the whole of the Middle East into hell."
The United States has also denounced as "outrageous" Iran's recent refusal to allow several dozen UN nuclear inspectors into the country, including the Belgian head of the inspection team to monitor Iranian compliance with its nuclear obligations.
(compiled from agency reports)
On The Verge Of Civil War
On The Verge Of Civil War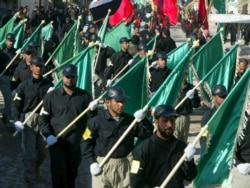 The Imam Al-Mahdi Army on parade (epa)
HAS THE CONFLICT IN IRAQ BECOME A CIVIL WAR? Many observers have concluded that the tit-for-tat sectarian violence that emerged after the February 2006 bombing of a mosque in Samarra has become a full-blown civil war.... (more)


RELATED ARTICLES
U.S. Media Starts Using 'Civil War' Label
Iraqi Prime Minister Under Fire From All Sides
U.S. Expert Discusses Prospects For Stabilization
President Says Iraq Needs Iran's Help
Saudi Arabia To Seal Off Border With Security Fence

THE COMPLETE PICTURE:
Click on the image to view RFE/RL's complete coverage of events in Iraq and that country's ongoing transition.