British officials say the country's 7,000 troops deployed mainly in the Al-Basrah region will begin to withdraw this year.
In Baghdad, al-Maliki told Browne that a new Iraqi plan, intended to complement the revised U.S. strategy in Iraq, will leave "no place for militias" in the country.
The meeting came as Shi'ite Muslims in Iraq celebrate the religious festival, Ashura.
An estimated 2 million Shi'a descended on the city of Karbala to take part in the mourning rite, which honors the slaying in 680 of Imam Hussein, grandson of the Prophet Muhammad.
Many participants beat themselves with chains and cut their bodies with knives in a recreation of how Hussein was decapitated and mutilated by the army of Caliph Yazid, according to legend.
But in continuing violence, four people were killed when a car bomb struck their vehicle on the way to a Shi'ite shrine in northern Baghdad.
And Iraq's Higher Education Ministry reported that a law student and three teachers were abducted from Nahrein University in the Shi'ite Kazimiyah district.
In fierce fighting on January 28, U.S. and Iraqi forces killed some 300 militants who were allegedly planning to attack pilgrims during the festival.
(AFP, AP, dpa)
On The Verge Of Civil War
On The Verge Of Civil War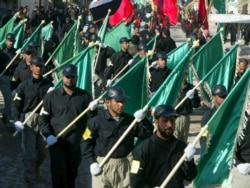 The Imam Al-Mahdi Army on parade (epa)
HAS THE CONFLICT IN IRAQ BECOME A CIVIL WAR? Many observers have concluded that the tit-for-tat sectarian violence that emerged after the February 2006 bombing of a mosque in Samarra has become a full-blown civil war.... (more)


RELATED ARTICLES
U.S. Media Starts Using 'Civil War' Label
Iraqi Prime Minister Under Fire From All Sides
U.S. Expert Discusses Prospects For Stabilization
President Says Iraq Needs Iran's Help
Saudi Arabia To Seal Off Border With Security Fence

THE COMPLETE PICTURE:
Click on the image to view RFE/RL's complete coverage of events in Iraq and that country's ongoing transition.