Turkish Al-Qaeda Leader 'Among Suspects Arrested'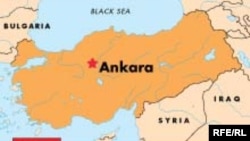 (RFE/RL) January 30, 2007 -- Turkish media report that a man suspected of leading Al-Qaeda operations in Turkey was among nearly 50 people arrested in an antiterror sweep on January 29.
The reports said the suspect, whose full name was not given, was previously affiliated with Abu Musab al-Zarqawi, the leader of Al-Qaeda in Iraq who was killed in a U.S. air strike last year.
In the January 29 antiterror raids, Turkish police arrested suspects with alleged Al-Qaeda links in simultaneous operations in five provinces.
(AFP, dpa)