Law Reducing Ukrainian President's Powers Comes Into Force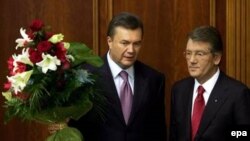 Yushchenko (right) with his rival, Yanukovych (file photo) (epa) February 2, 2007 -- A new law limiting the Ukrainian president's right to appoint key government members came into force today.
The legislation limits the president's right to appoint the prime minister, as well as the foreign and defense ministers.
It comes into effect without the president's signature.
President Viktor Yushchenko has pledged to take the new law to the Constitutional Court.
Parliament overrode his veto of the bill last month. Yushchenko says the legislation hands too much power to Prime Minister Viktor Yanukovych, his pro-Moscow rival.
The law comes into force just three days after Borys Tarasyuk, a Yushchenko ally, resigned as foreign minister.
(Interfax, AP)
RFE/RL Belarus, Ukraine, And Moldova Report

SUBSCRIBE For weekly news and analysis on Belarus, Ukraine, and Moldova by e-mail,
subscribe to "RFE/RL Belarus, Ukraine, And Moldova Report."