Tarasyuk, who shares Yushchenko's pro-Western ambitions, announced his decision on January 30 in remarks broadcast on national television.

The 58-year-old official said he had opted to resign because of a protracted standoff with the government of Prime Minister Viktor Yanukovych, which enjoys the support of Moscow and is wary of integration with the West.
Yushchenko is expected to name a successor within the next several days. It is unclear, however, if the Verkhovna Rada will approve his nominee.
MORE: Tarasyuk spoke to RFE/RL on January 15
Yanukovych and Yushchenko, who squared off during the 2004 Orange Revolution, have been engaged in a tense power struggle since Yanukovych was confirmed as prime minister in August 2006.

Announcing his resignation, Tarasyuk said Yanukovych and his supporters had made it impossible to "exercise my functions" and had "blocked the normal work" of the Foreign Ministry.
Ukraine's parliament, the Verkhovna Rada, had voted on December 1 to dismiss Tarasyuk following a request by Yanukovych.

Yushchenko -- who as president is constitutionally mandated to appoint the posts of foreign and defense minister -- rejected the parliamentary vote and kept Tarasyuk in his post.

The foreign minister, however, was barred from attending subsequent cabinet sessions and saw his job functions steadily curtailed.

Speaking on January 30, Tarasyuk said he feared any prolongation of the standoff would "damage the interests of the state of Ukraine's diplomatic service."

"As a politician, a diplomat and a citizen, I personally believe that this case should not drag on any longer. This is why I made this decision," he said.

Foreign Policy Shift?
Tarasyuk has been criticized by Moscow in the past for hindering relations as he pursued Yushchenko's pro-Western course.
"Borys Tarasyuk's main policy was a policy of provocations against Russia," Kremlin-connected political analyst Sergei Markov told RFE/RL today. "He was the chief organizer of provocations against the Russian [Navy stationed on the Crimean Peninsula]. One cannot call Tarasyuk a pro-Western politician. He is a typical Russophobe whose main task is to cause maximum damage to Russia's and Ukraine's unity. His departure is a good sign."

Tarasyuk's resignation may deal a blow to Ukraine's possible future integration into Western structures like the European Union and NATO.

Charles Tannock, a prominent member of the European Parliament, told RFE/RL's Ukraine Service that the move means a certain shift in Ukraine's foreign policy.

"Clearly it's a signal, politically, that Ukraine is now in a kind of multipolar foreign policy situation again," Tannock said. "It's not really clear whether it is heading toward eventual European Union membership, or will just get closer to us in terms of political and commercial relations but wishing to maintain an equal distance from Brussels as it does from Moscow."
Jan Marinus Wiersma, a Dutch member of the European Parliament and a former head of the Delegation to the EU-Ukraine Parliamentary Cooperation Committee, expressed hope that Tarasyuk's resignation would ease political tensions in Ukraine.
"[Tarasyuk] was a pro-European foreign minister," Wiersma told RFE/RL today. "So, my first reaction is that it's a loss for Ukraine. On the other hand, of course, it's understandable that he didn't want to prolong the constitutional battle which was slowing down the international activities of Ukraine in important periods, so I think it was a wise step for him to tender his resignation."
Successors Floated

Yushchenko is expected to name a successor within the next several days, but it is unclear if the Verkhovna Rada will approve his nominee.

Possible candidates include presidential aide Oleksandr Chalyy and Arseniy Yatsenyuk, a former economy minister who currently serves as first deputy head of the Presidential Secretariat.

First Deputy Foreign Minister Volodymyr Ohryzko will fill the role until an official replacement is found.

The situation temporarily leaves Defense Minister Anatoliy Hrytsenko as Yushchenko's sole remaining ally within the Ukrainian government.
Ukraine And European Energy Security
Ukraine And European Energy Security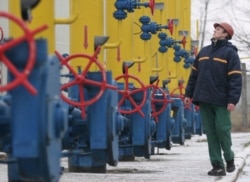 A worker inspects a gas facility outside of Kyiv (epa file photo)

MURKY CONNECTIONS. A year after the so-called gas war between Moscow and Kyiv, energy transhipments from Russia to Europe via Ukraine remain a concern. On December 1, RFE/RL's Washington office hosted a briefing featuring Tom Mayne, an energy researcher for the London-based Global Witness. Mayne discussed the lack of transparency in the energy sectors of Ukraine, Russia, and gas supplier Turkmenistan.
LISTEN
Listen to the entire briefing (about 60 minutes):

Real Audio
Windows Media
RELATED ARTICLES
Neighbors Watch As Russia Moves Toward WTO Membership
Kyiv Announces Terms Of New Russian Gas Deal
Former U.S. Ambassador Says Kyiv Can Cope With Gas Price Rise
ARCHIVE
RFE/RL's English-language coverage of
Ukraine
,
Russia
, and
Turkmenistan
.