This is the second time in two weeks that allies of the prime minister have prevented Tarasyuk, an ally of President Viktor Yushchenko, from a government meeting.
Tarasyuk was sacked by parliament earlier this month after Prime Minister Viktor Yanukovych complained he was working in opposition to the cabinet.
However, the president ordered Tarasyuk to remain in his job, saying it is the prerogative of the president to sack the foreign minister since he was the one who nominates him.
A scuffle broke out today between lawmakers from Yanukovych's party and Tarasyuk's supporters when Tarasyuk tried to enter the cabinet session.
The dispute is seen as part of a broader struggle for influence between the pro-Western Yushchenko and the pro-Russian Yanukovych.
(UNIAN, Interfax-Ukraine, AP)

Viktor Yanukovych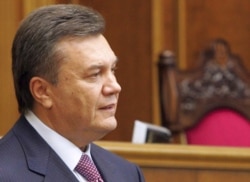 Prime Minister Viktor Yanukovych addresses Ukraine's Verkhovna Rada on August 6, 2006 (TASS)


UP FROM THE ASHES. On August 4, 2006, the Ukrainian legislature ended four months of political standoff by confirming Viktor Yanukovych as prime minister. Yanukovych's pro-Russian Party of Regions won the largest block of seats in the country's inconclusive March legislative elections. His confirmation capped a remarkable political comeback for Yanukovych after his defeat by Viktor Yushchenko in Ukraine's Orange Revolution....(more)
RELATED ARTICLES
Former President Comments On Yushchenko's Compromise
President Compromises For National Unity
Kremlin Insider Hails Developments
Former U.S. Envoy Says West Can Work With Yanukovych
ARCHIVE
RFE/RL's
coverage of Ukraine
. The website of
RFE/RL's Ukrainian Service
.


A photo gallery of political developments in Ukraine since the March 26 elections (Flash required)