According to Putin, the Ukrainian government has not only suggested unifying the two countries' gas-pipeline networks, but it has also expressed interest in drilling for oil and gas in Russia.
Putin said he approves of these initiatives and added that it was in the interests of both countries to seek closer cooperation.
"Russia has always wanted to gain control over the Ukrainian gas-transport system, so I do not see anything new in what Russian President Putin said," one analyst said.
In the past, Ukrainian leaders, including Prime Minister Viktor Yanukovych, have said the Ukrainian gas pipeline would not be turned over to Russian control.
Movement
But that stance could be changing. Yanukovych has reportedly authorized officials from the Fuels and Energy Ministry, headed by Yuriy Boyko, to conduct preliminary talks, which, if successful, could "unite" the gas-pipeline networks of the two countries.
If Ukraine turned over a part of its gas pipeline and compressor stations to Russia's state-controlled gas monopoly Gazprom, the country would be even more dependent upon Russian energy supplies -- and have less bargaining power. And the European Union would have to deal only with Moscow when it came to gas deliveries transiting through Ukraine.
For some time now, Russia has been making moves to acquire parts of its neighbors' gas-transit networks.
On December 31, 2006, Belarus and Russia's state-controlled gas monopoly, Gazprom, signed a deal securing Russian gas supplies to Belarus and Russian gas transit across Belarus for 2007-11.
As part of the deal Gazprom is purchasing a 50 percent stake in Beltranshaz, Belarus's gas-pipeline operator. Gazprom agreed to pay $2.5 billion for half ownership of Beltranshaz over five years.
Access To Gas Fields
For Russia -- eager to have control over gas-supply networks in Europe -- integration with Ukraine makes sense. But what about for Ukraine?
Ukraine's state-owned oil and gas monopoly, Naftohaz Ukrayiny, would gain much-needed access to Russian gas fields. Naftohaz is not a major oil or gas producer and is heavily in debt to Gazprom and RosUkrEnergo, the Swiss-based gas trader.
In 2006, Naftohaz entered into a joint venture with RosUkrEnergo to create UkrHazEnergo, a company with the right to sell gas to Ukrainian industrial consumers. By doing so, Naftohaz ceded to UkrHazEnergo millions of dollars in profits.
Serhiy Yermilov, Ukraine's former fuel and energy minister, told Interfax on February 1 that he was skeptical of Putin's proposal.
"Russia has always wanted to gain control over the Ukrainian gas-transport system, so I do not see anything new in what Russian President Putin said," Yermilov said. "If Putin's proposals are transparent, and if the Ukrainian parliament abides by them, then we can discuss the matter, otherwise it is only another attempt to cheat Ukraine."
Yermilov reminded policymakers that Russian Prime Minister Mikhail Fradkov has said that foreign companies operating on Russian soil will not be allowed to control the majority of shares in oil and gas production. At best, Naftohaz could only be a minority shareholder of any joint venture.
Foreign Minister's Resignation
President Putin's comments come on the heels of the resignation of Ukraine's pro-Western Foreign Minister Borys Tarasyuk.
Tarasyuk had been an ardent opponent of turning over control of the gas-pipeline network to Gazprom. But after Yanukovych managed to push Tarasyuk out, some observers have said Gazprom's path is now clear.
Ukrainian President Viktor Yushchenko has not yet commented on Putin's statement, although in the past he has strongly opposed turning over control of the gas-pipeline network to Russia.
Yushchenko is scheduled to visit Moscow in late February for talks with Putin where energy questions are expected to play a major role.
Ukraine And European Energy Security
Ukraine And European Energy Security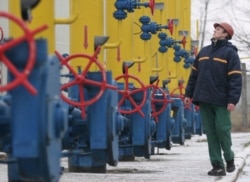 A worker inspects a gas facility outside of Kyiv (epa file photo)

MURKY CONNECTIONS. A year after the so-called gas war between Moscow and Kyiv, energy transhipments from Russia to Europe via Ukraine remain a concern. On December 1, RFE/RL's Washington office hosted a briefing featuring Tom Mayne, an energy researcher for the London-based Global Witness. Mayne discussed the lack of transparency in the energy sectors of Ukraine, Russia, and gas supplier Turkmenistan.
LISTEN
Listen to the entire briefing (about 60 minutes):

Real Audio
Windows Media
RELATED ARTICLES
Neighbors Watch As Russia Moves Toward WTO Membership
Kyiv Announces Terms Of New Russian Gas Deal
Former U.S. Ambassador Says Kyiv Can Cope With Gas Price Rise
ARCHIVE
RFE/RL's English-language coverage of
Ukraine
,
Russia
, and
Turkmenistan
.