The suicide truck bombing in Baghdad killed some 130 people and injured 300 others in one of the deadliest attacks since the start of the Iraq war in 2003.
Al-Maliki said today the government will punish the "Saddamists" and other Sunni militants behind the bombing.
The prime minister vowed in January to crackdown on insurgents who have defied attempts by his government to increase security.
Iraq Makes Syria Link
Meanwhile, the Iraqi government has said half of all insurgent attacks in Baghdad are carried out by militants from Syria.
Government spokesman Ali al-Dabbagh told "Al-Arabiyah" satellite television today that Baghdad had provided Damascus with evidence to back up this claim.
Iraq and the United States have long accused Syria of failing to prevent militants crossing the border.
"I was inside my shop when the roof caved in and I did not know what happened afterwards.... All I know is that something blew up."
The blast took place in the mainly Shi'a Al-Sadriya district in central Baghdad as people bought food ahead of a night-time curfew. Major General Jihad al-Jaberi of the Interior Ministry said the truck was carrying 1 ton of explosives and was detonated by a suicide bomber.
The casualties swamped the capital's hospitals. There were chaotic scenes at Ibn Al-Nafis hospital in central Baghdad, where hallways overflowed with wounded on trolleys.
Emergency workers dragged bodies from the debris and piled them onto pickup trucks. A wounded man with a bandaged head and face splattered with blood, told Reuters television that the roof of his shop caved in.
"After that I lost consciousness. I was inside my shop when the roof of the shop caved in and I did not know what happened afterwards," he said. "I do not know [whether it was a truck bomb]. All I know is that something blew up. Whatever number [of casualties] you say is little, all the hospitals including Al-Kindi, Al-Jarrah, and Ibn al-Nafis are stretched to the limits."
New Violence Today
In new violence, at least 15 people were killed in Baghdad, including four policemen. Meanwhile, the U.S. military today confirmed that four helicopters that crashed in Iraq in the past two weeks had been shot down.
Around 1,000 people have been killed across Iraq in the past week in suicide bombings, mortar bomb attacks and fighting between security forces and militants, according to figures compiled by Reuters news agency from official sources.
In the worst previous single bombing in Iraq, a suicide car bomber killed 125 people in Al-Hillah south of Baghdad in February 2005. In November 2006 six car bombs in different parts of the Al-Sadr City neighborhood of Baghdad killed 202 and wounded 250.
Sectarian Iraq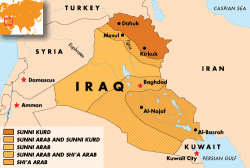 Click to enlarge the image.
SUNNI, SHI'A: Iraq is riven along sectarian lines, faults that frequently produce violent clashes and are a constant source of tension. Sectarian concerns drive much of Iraqi politics and are the main threat to the country's fragile security environment.


THE COMPLETE PICTURE: Click on the image to view RFE/RL's complete coverage of events in Iraq and that country's ongoing transition.