However, the "National Intelligence Estimate" from all 16 U.S. intelligence agencies says that the term "civil war" does not "adequately capture the complexity of the conflict in Iraq."
Nonetheless, it says "the term 'civil war' accurately describes key elements of the Iraqi conflict, including the hardening of ethno-sectarian identities, a sea change in the character of the violence, ethno-sectarian mobilization, and population displacements."
The assessment came in an unclassified summary of the document -- entitled "Prospects for Iraq's Stability: A Challenging Road Ahead" -- released today by the Office of the National Intelligence Director.
The document warns that the security situation in Iraq will deteriorate without measurable progress in efforts to halt the violence.
'Tough But Fair'
U.S. National Security Adviser Stephen Hadley said the report was "tough" but "accurate," and said it did not contradict U.S. strategyU.S. National Security Adviser Stephen Hadley (epa)
"It's a tough look at Iraq," Hadley said. "It makes clear the challenges we face. It does suggest that we can succeed with the right policies -- and we think we've developed the right policy, the right strategy, the right approach -- and makes it clear once again, as the president has been saying, that the consequences of failure are grave indeed."
Bush was briefed on the conclusions of the report on February 1.
Its release came amid continuing violence in Iraq.
The U.S. military today said its troops had killed at least 18 insurgents in the past two days in Al-Ramadi, west of Baghdad.
The military also confirmed that a helicopter went down today near a U.S. air base in Al-Taji, north of Baghdad, the fourth such loss in Iraq in two weeks.
Meanwhile, the city of Al-Najaf remained under curfew in the wake of severe clashes on January 28 between members of a Shi'ite sect and Iraqi and U.S. forces.
(compiled from agency reports)

(compiled from agency reports)
On The Verge Of Civil War
On The Verge Of Civil War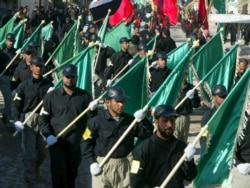 The Imam Al-Mahdi Army on parade (epa)
HAS THE CONFLICT IN IRAQ BECOME A CIVIL WAR? Many observers have concluded that the tit-for-tat sectarian violence that emerged after the February 2006 bombing of a mosque in Samarra has become a full-blown civil war.... (more)


RELATED ARTICLES
U.S. Media Starts Using 'Civil War' Label
Iraqi Prime Minister Under Fire From All Sides
U.S. Expert Discusses Prospects For Stabilization
President Says Iraq Needs Iran's Help
Saudi Arabia To Seal Off Border With Security Fence

THE COMPLETE PICTURE:
Click on the image to view RFE/RL's complete coverage of events in Iraq and that country's ongoing transition.